Weight-Plate Adapter inSPORTline Adaply 2850 – Part of a Set
Amazing combo of pull-up bar and pulley system for a full-body workout! Resistance bands will help you strengthen your muscles.
Recommended accessories
Description
Parameters
Alternatives (2)
Weight-Plate Adapter inSPORTline Adaply 2850 – Part of a Set
These are only the weight-plate adaptors; the pull-up bar is not included.
The Wall-Mounted Pull-Up Bar w/ Pulleys inSPORTline RK180 brings a complete pulley system to your home! The pull-up bar with 3 pairs of grips also features two pulleys that allow you to work out with weight plates, which are attached to the pulleys with adapters on which the weights are placed. The main advantage of this system is that it allows you to use both regular and Olympic weight plates – the diameter of the adapter can be changed from 25 to 50 mm. Affixed to a wall with 4 solid screws, the pull-up bar has a weight limit of up to 150 kg.
A steel cable with carabiners on either end goes through the pulleys. An adapter with weight plates is attached to one end of the cable and a single-handed grip is attached to the other end. Also included are resistance bands, which you can attach to the two loops on the frame, further expanding your exercise options. The loops can be used in another way, though. If you own a punching bag, you attach it to one of the loops and work on your punching technique.
Technical description:
Wall-mounted pull-up bar and pulley system in one
Pull-up bar features 3 pairs of grips
2 resistance bands
Weight plate-based resistance
Punching bag can be attached
Pull-up bar dimensions: L 101.5 cm x W 65 cm x H 22 cm
Pulley handle length: 58 cm
Resistance band length: 75 cm
Pull-up bar grip length: 20 cm
Adapter diameter: 25mm, 50 mm
Adapter loading part length: 20 cm
Weight: 10 kg
Weight limit: 150 kg
Suitable for home use
Weight plates are NOT included
Weight-Plate Adapter inSPORTline Adaply 2850 – Part of a Set - Product parameters
Bar diameter
50 mm, 25 mm
Weight-Plate Adapter inSPORTline Adaply 2850 – Part of a Set - alternatives -
all in stock
Olympic Adapter Sleeve 25 mm/50 mm 33 cm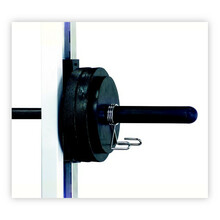 More info
Barbell Pad inSPORTline Camoroll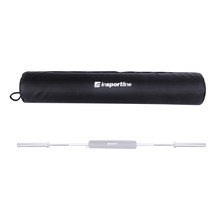 More info
Weight-Plate Adapter inSPORTline Adaply 2850 – Part of a Set is included in the following categories: