E-scooter W-TEC Tenmark 500W 10"
Easy-to-fold construction, cruise control, wide deck, front and rear light, fenders, high max speed, long distance range, remote locking system.
Recommended accessories
Description
Parameters
Alternatives (8)
E-scooter W-TEC Tenmark 500W 10"
The E-Scooter W-TEC Tenmark 500W 10" is a fun and safe way to get to work, school or around town. Its biggest advantage is the folding construction that you can fold/unfold within 5 seconds. As a result, the scooter doesn't take up much space, allowing you to store it in your apartment or garage. Its compact size will come in handy when you're traveling on a train, public transportation or in a car. You can carry it in your hand or put it in the trunk of your car. Last but not least, its modern design makes the E-Scooter W-TEC Tenmark 500W 10" easy on the eye! This scooter has a revolutionary new feature – a remote locking system. So, if you need to leave the scooter unattended for a while, just press a button to make sure it's still be there when you come back.



Ride like the wind!
Do you want to have fun on your scooter? Then the E-Scooter W-TEC Tenmark is the way to go! Thanks to the powerful 500W motor, no hill will be too steep and no terrain will be too challenging for you. The max speed is 40 km/h and distance range on a single charge is approximately 35 km (at standard speed). However, the distance range depends on a variety of factors, such as the rider's weight, riding style, terrain and/or weather. The battery charges to full capacity in 6 to 8 hours. Just charge the battery overnight, so it's ready to go in the morning! You can choose from three speed modes. You can ride the scooter (by pushing off the ground) even if the battery is dead. Thanks to the 120kg weight limit, the scooter can be used by the entire family, which makes it extremely cost-effective.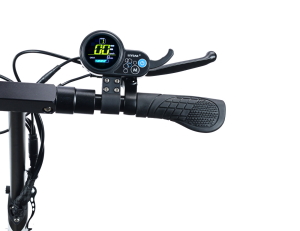 Easy to control
The easy-to-read, LCD display allows you to follow all the important information such as current speed (including the speed mode), battery status, current and overall distance covered, time, etc. Using the ON/OFF and MODE buttons, you can control numerous advanced features, including start assistance and cruise control. Moreover, the display also features a USB port which you can use to charge your phone or tablet.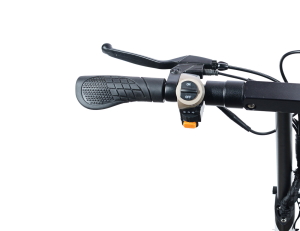 Safe at all times
The E-Scooter W-TEC Tenmark can get over any obstacle! Not even darkness or bad weather will keep you at home. The battery-powered front and rear LED lights make sure you're visible in low light conditions. You can turn on the lights and the horn using the color-coded buttons on the handlebars. Since the rear light also lights up during braking, everyone will see you. You can depend on the disc brakes at all times, no matter the speed. They allow you to smoothly stop the scooter on any terrain!


Quality and durability guaranteed
Designed down to the last detail, the scooter features solid 10" (25.4 cm) tires that stick to a wet surface and absorb vibrations. You might also appreciate the fenders. The aluminum construction with height-adjustable handlebars is extremely durable. The scooter is suitable for users from 150 to 210 cm in height. The 53-cm-long deck allows you to ride with your feet side by side.

When you're riding the E-Scooter W-TEC Tenmark, everyone will take notice! If you've never ridden an e-scooter before, you're going to love it! Easy to store. Outstanding performance. Modern design. What more could you wish for?!
                                   35 - 40 km/h                        35 km                          6-7 hrs.

                                    Max speed                 Distance range            Charging time
Battery storage and maintenance: We recommend storing the battery (or the entire product including the battery) in a shady, dry place at temperatures between 10 ° C and 20 ° C. If you do not intend to use the product for a long time, we recommend charging the battery and recharging it to 100% capacity at least once a month. Follow these guidelines to prevent the battery's nominal capacity from declining rapidly over its lifetime.

Technical description:
| | |
| --- | --- |
| Frame material | Aluminum alloy |
| Operating voltage | 48 V |
| Engine type | brushless |
| Max incline | 15° |
| Engine power | 500 W |
| Battery capacity | 13 Ah / 48 V |
| Charger  | input 100-240VAC / 50 ~ 60HZ, output DC54.6V / 2A |
| Max speed | 35-40 km/h |
| Distance range on single charge | 35 km |
| Charging time (full capacity) | 6-7 h |
| Weight limit | 120 kg |
| Weight | 19,2 kg |
| Tire size | 10" (25.4 cm)  |
| Tire type | Inflatable – front and rear |
| Brakes | electric, disc |
| Recommended minimum user height | 150 cm |
| Min handlebar height | 79 cm |
| Max handlebar height | 108 cm |
| Handlebar width | 55 cm |
| Deck width | 24 cm |
| Deck length | 53 cm |
| Deck height – top  | 15 cm |
| Deck height – light  | 8.5 cm |
| Dimensions | L 110 x W 55 x H 80-110 cm |
| Collapsed dimensions | L 110 x W 26 x H 37 cm |
| Package dimensions | L 114 x W 30.6 x H 34.5 cm |
| Lights | Front and rear LED |
| Setting options | Cruise control, start w/ or w/o push off |
| Accessories | Folding frame, remote locking system, backlit display (battery-powered), loud electric horn, kickstand, fenders, USB port for charging phone |
Remote controller:
Lock display buttons (display must be turned off)
when you try to turn on the scooter alarm will be triggered
Unlock display buttons
Deactivate alarm
Horn - A short warning sound signal 
Unlock display buttons
The expected maximum range is fundamentally dependent on a variety of conditions. Some of these factors include speed selection, rider's weight, type terrain, wind, tire pressure and its pattern, and ambient temperature. All ranges are for optimal conditions. Optimal or ideal conditions are: use of economical riding mode, flat terrain without headwind, ambient temperature 20 ° C, profile-free tires inflated to the recommended pressure, following  the recommended load capacity specified by the manufacturer. You will also get the best range if you help the scooter by bouncing, for example when starting off or uphill.
Do not ride in the rain or on wet roads. There is a risk of damage to the electronics and battery.
E-scooter W-TEC Tenmark 500W 10" - Documents to download
E-scooter W-TEC Tenmark 500W 10" - Product parameters
Minimum recommended user height
150 cm
Battery capacity
13000 mAh
Dimensions
1100 x 550 x 1100 mm
Motor placement
in the rear wheel
Regenerative brakes
Regenerative brakes allow for the transformation of braking energy back into usable electric energy.
no
E-scooter W-TEC Tenmark 500W 10" - alternatives -
all in stock
E-scooter W-TEC Tenmark 500W 10" is included in the following categories: