E-Scooter W-TEC Billar II 500W 12" -
SPECIAL OFFER
Powerful e-scooter perfect for shopping rides and trips, comfortable height-adjustable seat, rear suspension, folding handlebars, basket, fenders, ignition switch key lock.
Recommended accessories
Description
Parameters
Alternatives (8)
E-Scooter W-TEC Billar II 500W 12"
A more powerful and better equipped version of the popular scooter, the minimalist E-Scooter W-TEC Billar II 500W combines safety and easy control. The sturdy but folding frame makes the scooter easy to store while the long and stable handlebars and seat allow for a comfortable and exciting ride. This scooter is suitable for both young and old users as the electric drive allows even a tired rider to reach their destination. The joy this unusual electric toy brings you is priceless.

Front and Rear Suspension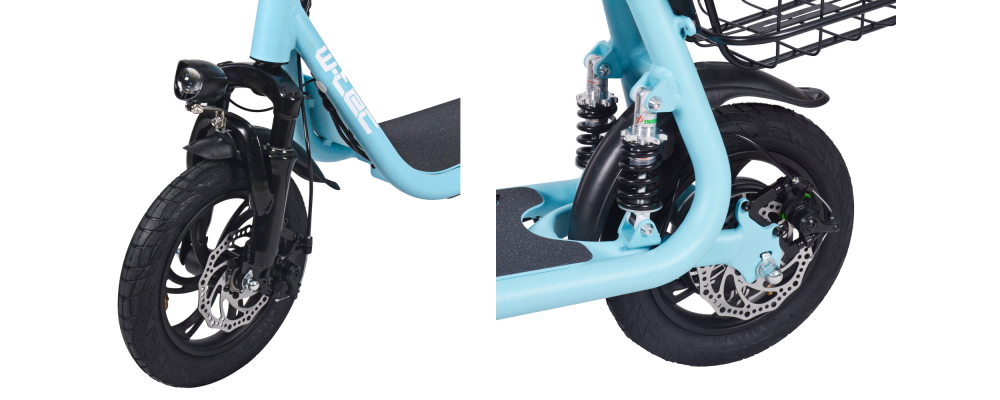 A combination of speed and dexterity, the 12" inflatable wheels and sophisticated front and rear suspension will deal with bumps on the road. The two disc brakes will keep you safe while the fenders allow for a comfortable ride in the rain.

Folding Frame

If you need to transport the scooter, just fold up the handlebars, adjust the seat to the lowest position and put the scooter in the trunk of your car. This scooter will help you get to school, work or avoid traffic jams. Moreover, it will also allow you to ride on bike paths, paved roads or forest roads. 

Lots of Other Amazing Features

If you need to stop for a while, lock the scooter using the ignition switch key lock (it can't be powered up). As a result, you won't have to carry a heavy lock anymore. The kickstand will come in handy when the scooter is not in use while the front and rear lights will improve your visibility in low light conditions. The basket in the rear make the scooter ideal for shopping or carrying smaller items (up to 10 kg). The 10.2Ah battery allows for a 30km distance range on a single charge. Moreover, you can use the scooter even if the battery is dead (by pushing off the ground).

The E-Scooter W-TEC Billar II is perfect for transportation in large halls, warehouses and places or situations when you need to transport anything. 
Battery storage and maintenance: We recommend storing the battery (or the entire product including the battery) in a shady, dry place at temperatures between 10 ° C and 20 ° C. If you do not intend to use the product for a long time, we recommend charging the battery and recharging it to 100% capacity at least once a month. Follow these guidelines to prevent the battery's nominal capacity from declining rapidly over its lifetime.

Technical description:
| | |
| --- | --- |
| Frame material | aluminum |
| Engine power | 500 W |
| Engine type | brushless |
| Max speed | 30 km/h |
| Speed modes | 12/18/25 km/h |
| Max slope | 7.2° (12.6 %) |
| Battery | Li-Ion 10.2 Ah, 36 V |
| Charger | input 100-240V, 50/60Hz, 1.8A; output 42V, 1.5A |
| Distance range on single charge | Up to 30 km |
| Charging time to full capacity | 3 – 5 hrs. |
| Brakes | Front and rear, disc |
| Tires | Front and rear, inflatable |
| Tire size | 12 1/2" x 2 1/4" (47-203) |
| Max inflation | 2.75 bar / 40 psi |
| Deck dimensions | 39 x 20 cm |
| Deck height (top) | 22 cm |
| Deck height (bottom) | 16 cm (without kickstand) |
| Handlebar height | 89 cm |
| Handlebar width | 49 cm |
| Seat height from the ground | 67 - 83 cm |
| Lights | Front light, rear/brake light, rear reflector |
| Dimensions | 122 x 59 x 95 cm |
| Folded dimensions | 122 x 25 x 60 cm |
| Basket dimensions | 33 x 28 x 13 cm |
| Min recommended user height | 150 cm |
| Weight limit | 120 kg |
| Basket weight limit | 10 kg |
| Weight | 20 kg |
| Setting options | Light can be turned on by button or twilight sensor |
| Accessories | Rear suspension, throttle lever, ignition switch key lock, folding handlebars, multi-purpose backlit display (powered by central battery), kickstand, fenders, bell, preparation for mounting rear-view mirrors |
Note: Mirrors shown are not included
The expected maximum range is fundamentally dependent on a variety of conditions. Some of these factors include speed selection, rider's weight, type terrain, wind, tire pressure and its pattern, and ambient temperature. All ranges are for optimal conditions. Optimal or ideal conditions are: use of economical riding mode, flat terrain without headwind, ambient temperature 20 ° C, profile-free tires inflated to the recommended pressure, following  the recommended load capacity specified by the manufacturer. You will also get the best range if you help the scooter by bouncing, for example when starting off or uphill.
Do not ride in the rain or on wet roads. There is a risk of damage to the electronics and battery.
E-Scooter W-TEC Billar II 500W 12" - Documents to download
E-Scooter W-TEC Billar II 500W 12" - Product parameters
Minimum recommended user height
150 cm
Battery capacity
10000 mAh
Dimensions
1220 x 590 x 950 mm
Motor placement
in the rear wheel
Regenerative brakes
Regenerative brakes allow for the transformation of braking energy back into usable electric energy.
no
E-Scooter W-TEC Billar II 500W 12" - alternatives -
all in stock
E-Scooter W-TEC Billar II 500W 12" is included in the following categories: