Kid's metal detector inSPORTline Goldino
Lightweight, fun and easy to use - in short, the best detector for children! It is possible to work with 3 levels of discrimination and the length of the detector can be set easily !
Recommended accessories
Description
Parameters
Alternatives (8)
Kid's metal detector inSPORTline Goldino
If your children like to explore the surroundings, equip them with a great metal ddetector so that they can also bring something interesting from trips! The Kid's metal detector inSPORTline Goldino fits perfectly in the hands of young treasure hunters from 6 to 12 years old, and thanks to its low weight, their arms don't get tired. Instead of numbers, a simple display shows fun icons that indicate the level of discrimination. It is simple for children to understand how metal dectector works and how to set it up.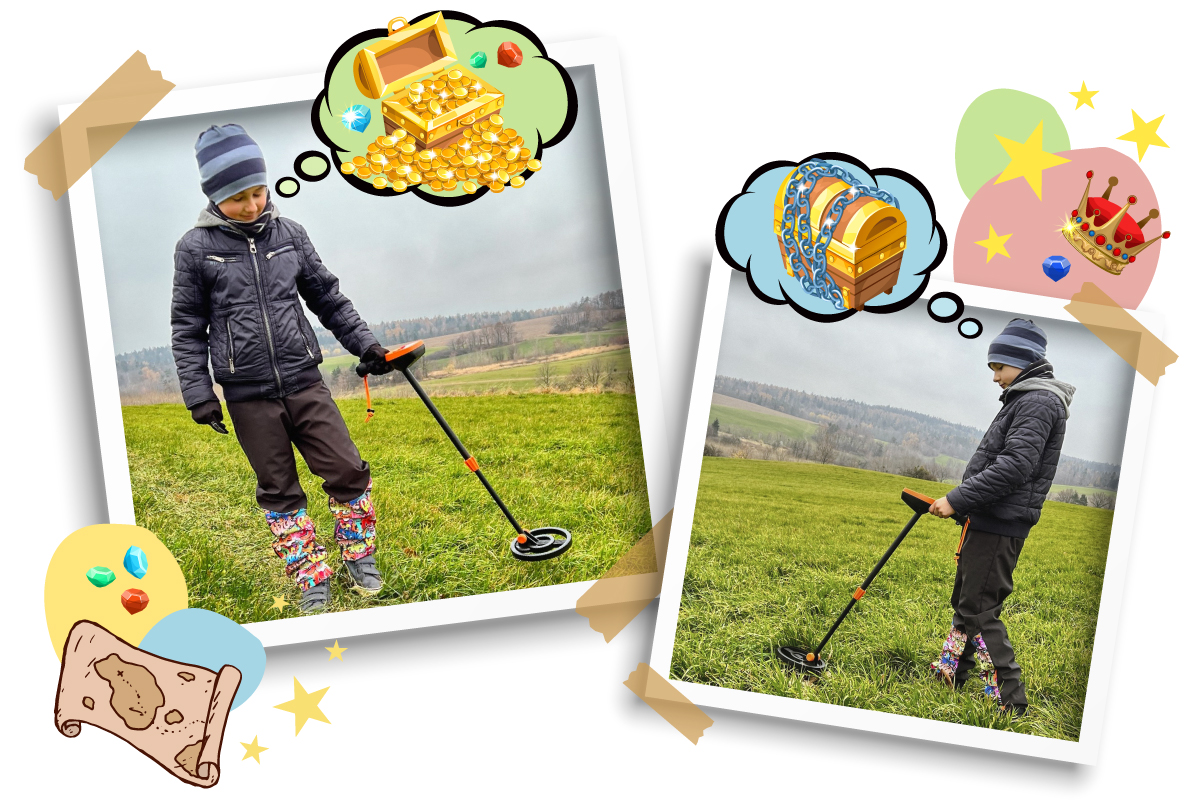 The waterproof coil with a diameter of 6.8 ″ has a reach of up to 10 cm in depth. Thanks to the telescopic design, you can then adjust the detector according to how the child grows, or change it between siblings. The detector distinguishes 3 types of targets - objects with iron content and non-ferrous objects with low and high conductivity. Each category has its own specific tone when searching, so it's easy to find your way around the sound. In addition, the volume and sensitivity of the detector can be adjusted, including discrimination against unwanted targets. 
With inSPORTline Goldino, will have your little adventures coins, jewelry and other treasures easily within reach!
Technical description:
wireless kid's detector for beginning searchers
3 discrimination modes (possible to exclude targets of a certain conductivity from the search, such as iron objects)
light ergonomic design
telescopic construction
waterproof coil for searching in shallow waters
fun graphic representation of individual modes
audio distinction of targets
simple control
clear LCD display
safety cable around the wrist
frequency: 7 kHz
coil: 6.8 ″
discrimination modes: 3 (discrimination of ferrous objects, non-metallic objects with low conductivity, non-metallic objects with high conductivity)
handle length: 11 cm
length adjustment: 51-79 cm
recommended age: 6-12 years
power supply: 2x AA batteries (not included)
weight: 524 g
Kid's metal detector inSPORTline Goldino - Documents to download
Kid's metal detector inSPORTline Goldino - Product parameters
Weight (g)
The total weight of the product.
524 g
Power source
2x AA battery
Kid's metal detector inSPORTline Goldino - alternatives -
all in stock
Kid's metal detector inSPORTline Goldino is included in the following categories: