Radio frequency massage device for the eye area inSPORTline Eyewish
A helper for smoothing out eye imperfections. The head is coated with a layer of gold. Reduces wrinkles and circles under the eyes or pigment spots, activates collagen in the skin.
Recommended accessories
Description
Alternatives (8)
Radio frequency massage device for the eye area inSPORTline Eyewish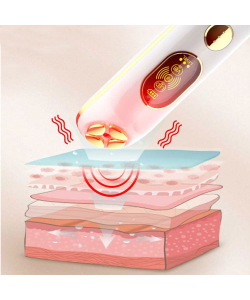 The Radio frequency massage device for the eye area inSPORTline Eyewish is a great compact helper that will be appreciated by everyone who often has tired eyes, whether it is from working at a computer, long concentration at school or wearing glasses. The device generates radio frequency waves that penetrate the skin and perfect blood circulation. Radiofrequency is one of the most widely used technologies in the field of non-invasive aesthetic medicine. In addition, the head of the device is covered with a light layer of gold! Gold has strong antioxidant effects and can quickly restore skin elasticity and radiance. When used in combination with a cosmetic products, the radio frequency waves ensure better absorption of the product into the depths of the skin and at the same time intensify the effects of the cosmetic products.

However, the Eyewish radio frequency massage device has two other functions. One of them is high-frequency vibrations with a frequency of 12,000 RPM, which improve blood circulation in the eye area and reduce circles under the eyes. The second function is a red LED light in the center of the head with a wavelength of 650nm . This light is used for light therapy, in which light penetrates into the deeper layers of the skin, where it activates collagen, can lighten the skin and at the same time remove circles under the eyes. It is natural that the skin's metabolism slows down with age and wrinkles form on the skin, which deepen over time. However, with regular care , you can prevent or possibly reduce these wrinkles. 
Use
Thoroughly cleanse the skin with our helpers - inSPORTline Reggi make -up facial towel and inSPORTline 3in1 micellar cleansing water. After cleansing, you can apply a light inSPORTline moisturizer, inSPORTline ultra moisturizer or inSPORTline revitalizing lifting cream to the skin around the eyes (see the first picture below) (the massage device can intensify their effect ). To start the device, hold down the lower button for 2 seconds. All functional devices are preset to start automatically. You can set the combination of desired functions by pressing this start button repeatedly. The upper button is used to set 3 different intensities of radio frequency waves (we recommend starting with the setting at the lowest intensity). Run the head of the device under and over the eye as shown in the figure - from the center of the eye to the outer edge and then around the entire eye. Give each eye at least 3 minutes 2 to 3 times a week . After the massage, clean the head of the device with a cosmetic cloth.


Technical description:
uses radio frequencies, LED lights and vibrations to combat skin imperfections
gilded massage head
perfectly perfuses the skin in the eye area
activates skin collagen
relieves under-eye circles, puffiness and pigment spots
with regular use can reduce wrinkles
red LED light with a wavelength of 650nm
high frequency vibration 12,000 RPM
3 radio frequency intensities
the battery charge level is shown on the display
stylish design
easy operation with two buttons
charging via micro USB (power cable included)
charging time: 3 hours
operating time per charge: approx. 30 minutes
battery capacity: 500 mAh
radio frequency: 400 kHz
material: ABS, zinc alloy, gold-plated massage head
dimensions: L15.5 x H1.5 x W2.7 cm
weight: 55 g
Radio frequency massage device for the eye area inSPORTline Eyewish - alternatives -
all in stock
Radio frequency massage device for the eye area inSPORTline Eyewish is included in the following categories: