Face Roller & Gua Sha Set inSPORTline Rosado Pro -
SPECIAL OFFER
Beauty skin care tools for massaging the face and other body parts, helping your skin look fresh and the muscle relax when used regularly.
Recommended accessories
Description
Alternatives (3)
Face Roller & Gua Sha Set inSPORTline Rosado Pro
The Face Roller & Gua Sha Set inSPORTline Rosado Pro is a practical massage set consisting of a face roller and a gua sha stone. Gua sha is a natural, alternative therapy that involves scraping your skin with a massage tool to improve your circulation. Gua means to scrape while Sha means to negate. This ancient Chinese healing technique offers a unique approach to better health, addressing various issues (literally scraping them out of your body). In gua sha, your skin is scraped with short or long strokes to stimulate microcirculation of the soft tissue, which increases blood flow. Gua sha may reduce inflammation, so it's often used to treat ailments that cause chronic pain, as well as those that trigger muscle and joint pain. As a natural healing remedy, gua sha is safe. It's not supposed to be painful, but the procedure may change the appearance of your skin. Because it involves rubbing or scraping skin with a massage tool, tiny blood vessels known as capillaries near the surface of your skin can burst. This can result in skin bruising and minor bleeding. However, there's no need to worry as bruising usually disappears within a couple of days. When you want your roller to stay cold for a longer time, you can place it into the fridge for 15-20 minutes. In the winter, you can heat the roller up in hot water and treat yourself to a heated face massage.
The face roller stimulates the lymphatic system and blood circulation. It also helps brighten complexion, tighten pores and reduce the appearance of fine lines and wrinkles. Last but not least, it helps maximize the absorption of the facial oil, serum, cream or moisturizer. The roller was made of rose quartz, which is a mineral that has a number of positive effects on the human body, as it helps relieve muscle tension, calm the mind and get rid of negative emotions. The Rosado Pro set also includes a makeup spatula that is used to apply cosmetic products, preventing transfer of bacteria from hands to your face cream or other cosmetic products. You can use it, for example, to apply your face mask.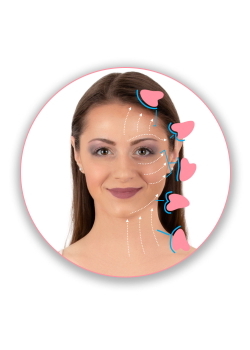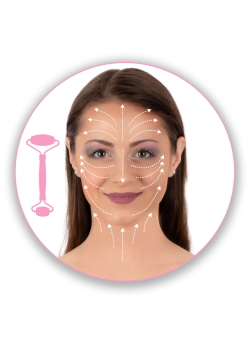 How to use
Cleanse your face, then apply your face oil, eye products, serums and moisturizers. Start at the cleavage area, using the roller back and forth, up and down and out to the side. The massage is supposed to be relaxing and soothing, so you don't want to apply too much pressure. Move to the neck area and go from the collarbone up to the jaw. Then proceed from the center of your chin and the corner of your mouth all the way to your ear. You can use the shorter side of the roller to massage your under-eye area, nose and eyebrows. For your forehead, use the longer side, again going back and forth, up and down and out to the side.
Hold the jade stone with curved sides to your face, and move it upward and outward gently. To encourage lymph drainage, hold the gua sha stone at a 15-degree angle and very gently pull/scrape it across your skin. To maximize the effectiveness of the massage, perform it regularly at the end of the day after removing your makeup. 
Both the roller and the stone can be used on any body part. A cooling/heated massage can relax any muscle in your body.


Rose Quartz
The stone of unconditional love, rose quartz is a natural mineral that brings love, positive energy and gentleness into our lives. It promotes restful sleep and helps calm our mind. It promotes skin rejuvenation and helps reduce wrinkles. It deepens our sensitivity to art, which awakens our imagination, creativity and inspiration. Helps calm you down during grief, all kinds of trauma and crises. Use a cosmetic wipe to clean it after every session. The stone can be charged in the moonlight – best at full moon (not in the sunlight; the color could fade). 
Note: Since rose quartz is a natural stone, the color shades of individual rollers may differ.


Technical description:
Gua Sha massage set
Helps improve blood circulation and skin elasticity
Easy to use
Helps reduce wrinkles
Spatula for applying face cream or face mask
Natural semi-precious stone – Rose Quartz
Helps reduce eye bags and relieve puffy eyes
Helps nourish the skin
Natural mineral with positive effects
Can be used on any body part
Roller, stone and spatula can be cleaned using a cosmetic wipe
Can be heated up in hot water or cooled in the fridge
Dimensions:

Roller: L 14.5 x W 6 cm
Stone: L 8 x W 5.5 cm
Spatula: L 14 x W 3.5 cm

Weight:

Roller: 70 g
Stone: 40 g
Spatula: 10 g

Packed in box
Face Roller & Gua Sha Set inSPORTline Rosado Pro - alternatives -
all in stock
Face Roller & Gua Sha Set inSPORTline Rosado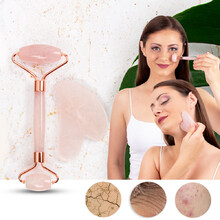 More info
Face Roller inSPORTline Rosado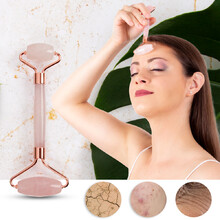 More info
Face Roller inSPORTline Siarto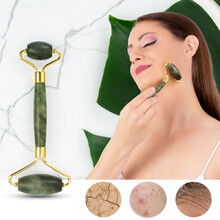 More info
Face Roller & Gua Sha Set inSPORTline Rosado Pro is included in the following categories: