Sonic Facial Cleansing Brush inSPORTline Cuddlecheek
Small device that will help you achieve glowing skin. When used regularly, it will help you cleanse your pores and relax your muscles and mind.
Recommended accessories
Description
Alternatives (8)
Sonic Facial Cleansing Brush inSPORTline Cuddlecheek
The Sonic Facial Cleansing Brush inSPORTline Cuddlecheek is a waterproof device that's been missing from your skin-cleansing ritual. The combination of fine silicone bristles, sonic technology and vibrations can do wonders for your skin. It helps you get rid of sebum and blackheads and deeply cleanse your pores, leaving your skin glowing and radiant! Sonic technology uses vibrations from ultrasonic frequencies to not only cleanse and massage your skin, but also to reduce small wrinkles. Thanks to sonic vibrations, this device can cleanse your skin faster and much more effectively than if you did it manually.
The device features bristles of three different sizes. The large bristles at the top are suitable for cleansing your nose and chin, the small, fine ones are perfect for your cheeks and forehead, and the medium ones on the back are used for dirt removal. When used regularly, the device will help you achieve glowing and younger-looking skin. You can choose from different vibration intensity levels (1 – 5) – use the lowest vibration level for problematic, acne prone skin, the medium level for skin that's healing and the highest one for acne-free skin.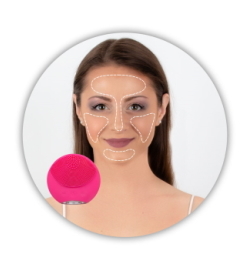 How to use
Erase all makeup, using our products – the Makeup Eraser inSPORTline Reggi and the Micellar Cleansing Water inSPORTline 3-in-1. Apply face scrub or other skincare product on damp skin – Deep Cleansing Emulsion w/ AHA Acids inSPORTline (do not use scrub with mechanical particles as they can get stuck in the bristles). Use your fingertips to gently massage the skincare product into the skin. Wet also the Cuddlecheek brush. Switch the brush on, select the vibration intensity and apply the part with the fine bristles to the skin. Do not put too much pressure, skin cleansing is supposed to feel good. Massage the skin in a circular motion, spending approximately 15 seconds on each part of the face. Use the part with the large bristles on the areas with more sebum production, i.e. the chin and the nose. Then wash your face with water and apply the Light Moisturizing Cream inSPORTline and Ultra Moisturizing Cream inSPORTline. 
Just 1 minute in the morning and in the evening will help you get rid of dead skin cells, sebum and dirt.

Technical description:
Waterproof facial cleansing brush
Sonic vibrations provide deep cleansing and help reduce fine wrinkles
Massages the face and transports blood to tissues
Helps reduce dark circles under the eyes and puffiness
Relaxes body and mind
5 vibration intensity levels
Stylish design
Easy to use
Charging time: 1 hour
Battery life on single charge: 1 hour
Vibration frequency: 5,500 RPM
Input: 5V 500mA
Output: 3.7V DV
Dimensions: L 8 x W 4 x H 8 cm
Weight: 71 g
Material: ABS, silicone
Sonic Facial Cleansing Brush inSPORTline Cuddlecheek - alternatives -
all in stock
Sonic Facial Cleansing Brush inSPORTline Cuddlecheek is included in the following categories: