Foot Massager inSPORTline Levick
Foot massager with airbags and air rollers. Easy to use, timeless design, heated massage.
Recommended accessories
Description
Parameters
Alternatives (2)
Foot Massager inSPORTline Levick
The Foot Massager inSPORTline Levick provides an effective foot, ankle and instep massage. You will fall in love with this unique massage system with airbags which are used in the widely popular massage chairs. Using the Air button, you can adjust the pressure put on your feet (there are three different intensity levels). This machine offers a wide range of massage options that anyone can choose from!
The three manual programs offer three different types of massage – foot scratching, airbag massage and air roller massage. The automatic programs combine all of the above, allowing you to choose just the kind of massage your feet need. These different massage types help relieve sore feet by applying pressure to the arch, heel and toes. Another advantage is that the massage is heated, not only increasing the level of relaxation, but also improving blood circulation. Besides making your feet happy, the Foot Massager inSPORTline Levick is also easy on the eye thanks to its beautiful round design.
Technical description:
Provides relaxing foot massage
Helps relieve sore feet
Helps relieve muscle tension
Helps relieve stress
Stimulates acupressure points on feet
Improves blood circulation and lymphatic system
User-friendly
Timeless design
Removable and washable fabric liner
Functions:

3 manual programs
4 automatic programs
3 intensity levels of airbag massage
Heated massage

Dimensions: L 40 x W 40 x H 23 cm
For foot sizes: up to and including 44.5 (EU) / 10 (UK) / 290 mm
Wattage: 35 W
Weight: 3.2 kg
Noise: ≤ 50 dB
Use when seated
Foot Massager inSPORTline Levick - Product parameters
Number of massage intensity levels
With every massage chair, you can set the massage intensity. It is the amount of pressure the massage heads and valves put on your body. Massage chairs usually have three intensity settings (low, average and high). However, higher-class chairs can feature more intensity levels.
3
Number of programs
Most massage chairs feature several pre-set or manual programs. These programs are specially designed to fulfill the user's needs. For example, there is relaxing massage, relieving massage, fitness massage and others. The number of programs varies from chair to chair but generally it can be said that the higher-class the chair is, the more programs it has.
3
Weight
The total weight of the product.
6.20 kg
Foot Massager inSPORTline Levick - alternatives -
all in stock
Foot Massager KLARFIT Feetmaster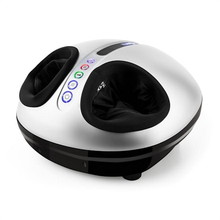 More info
Foot Massager inSPORTline Otterchill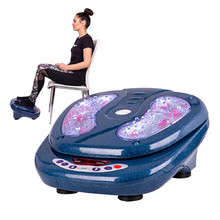 More info
Foot Massager inSPORTline Levick is included in the following categories: