Electric Massager inSPORTline Esteron
Two massage heads, cold and heat mode, 5 massage speeds.
Recommended accessories
Description
Alternatives (3)
Electric Massager inSPORTline Esteron
The Electric Massager inSPORTline Esteron is a sturdy massager that offers a cold and heat massage, allowing it to not only effectively relieve acute pain and swelling, but also help with chronic pain. It features two speed-adjustable massage heads that allow you regulate the intensity of your massage. This machine can be used by professional physiotherapists and masseurs as it allows them to put more pressure on problematic areas (i.e. it's more effective than a traditional hand massage). The solid wide handle provides a perfect grip, allowing you to use the massager on yourself.
The Electric Massager inSPORTline Esteron is suitable for a full body massage. If you're suffering from back pain, are stressed from work or just need to relax after a long, hard day, the Esteron will take care of you. All you need to do is turn it on, select one of the modes, and the massage heads will take care of the rest. You can adjust the intensity of vibrations during your massage. 
What massage to choose?
The cold massage is basically cryotherapy, which is a technique where the body is exposed to extremely cold temperatures. If you've got hurt in the last 72 hours or are experiencing acute pain, the cooling massage is the right choice. Cryotherapy is used in an effort to relieve muscle pain, sprains and swelling after soft tissue damage. It allows muscles to heal faster and even prevents cramps and muscle soreness after workout. It also has a positive effect on the immune system.
The heat massage is perfect for chronic pain. It increases temperature in the damaged tissue, stimulating blood flow. You will feel relieved and relaxed after first use. The heat massage also helps reduce cellulite. This massage is not suitable for acute muscle soreness or inflammation.
Technical description:
Sturdy electric massager
Ideal for full body massage
Cold and heat massage:

Heat massage: relieves chronic pain and muscle soreness
Cold massage: reduces swelling, allows muscle to heal faster and has a positive effect on the immune system
LED backlight

5 speed levels (indicator)
Massage heads made of aluminum alloy
Solid handle for perfect grip
Comes with charger
Suitable for both home and professional use
It is recommended to hold the massager in both hands during the massage
Material: ABS
Wattage: 30 W
Weight: 1.5 kg
Cable length: 225 cm
Dimensions: 37 x 17 x 17 cm
Note: The device should not to be used on your face or private parts
Electric Massager inSPORTline Esteron - alternatives -
all in stock
Seat Cushion Massager inSPORTline Chairolee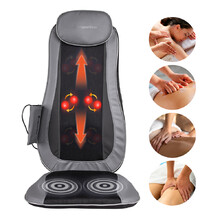 More info
Neck & Shoulder Massager inSPORTline Quebii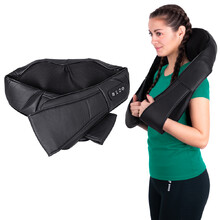 More info
Massage Waist Belt inSPORTline Gomun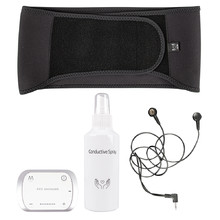 More info
Electric Massager inSPORTline Esteron is included in the following categories: