Rubber-Coated Dumbbell inSPORTline Ketlebel Profi 6 kg -
SPECIAL OFFER
Weight 6 kg, rubber-coated, chromed grip, moisture and wear resistant surface.
We are sorry, but this product is no longer available.
Recommended accessories
Description
Parameters
Video (1)
Rubber-Coated Dumbbell inSPORTline Ketlebel Profi 6 kg
Rubber-Coated Dumbbell Ketlebel Profi 6 kg with a Chrome Grip inSPORTline Ketlebel is a unique bell-shaped dumbbell with a triangular grip. The body of the dumbbell is made of high-quality rubber-coated material with a chromed handle. The handle is designed to make your workouts safe and comfortable. The bottom part is flat so that the dumbbell stays in place when you put it down. Rubber-Coated Dumbbell 6 kg with a Chrome Handle inSPORTline Ketlebel is suitable for users of all ages and fitness levels and its main purpose is to develop your strength.


Technical description:
High-quality inSPORTline dumbbell
Moisture and wear resistant surface
Precise weight guaranteed
Weight marked on the dumbbell
Material: rubber-coated steel with a chromed grip
Weight: 6 kg
suitable for exercising your arms, chest muscles and abs
price for 1 pc
Recommended by Petr Kopřiva, the inSPORTline coach:
Strengthening your stabilization muscles will help you reduce longterm back pain.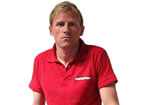 Exercised body areas: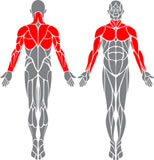 Rubber-Coated Dumbbell inSPORTline Ketlebel Profi 6 kg - Product parameters
Weight
The total weight of the product.
6 kg
Filling
In Kettlebels and Vin-bells, we can find three types of filling. The first is cement, with the advantage of lower price. On the other hand, when compared to steel filling, its volume is a bit higher. Steel filling is, however, more expensive. The third type of filling is made of fine sand, found mainly in neoprene dumbbells.
Steel
Handgrip
All types of handgrips ensure safe and comfortable workout. Chromed and steel grips are smooth and resistant to damage. Vinyl and rubber grips provide anti-slip surface and durability. Plastic handgrips can be found on lighter neoprene dumbbells.
Chromed
Coating
Dumbbells are most commonly coated with either rubber or vinyl. Both are highly resistant to wear and damage. They are easily washable and comfortable to the touch. The vinyl models are filled with cement, the rubber ones with steel. Neoprene coating can be found on lighter dumbbells filled with sand.
Rubber
Rubber grips
Rubber grips can be found especially on vinyl sets. They stabilize the dumbbell in place when it's put on the ground or on a rack. This way, the dumbbell will ot roll away and stay in place.
no
Rubber-Coated Dumbbell inSPORTline Ketlebel Profi 6 kg is included in the following categories: