How to choose the right plates?
If you have already decided which barbell bar you want to exercise with, choosing the plates themselves should be a simple matter. After all, it is good to clarify what options are available to you. If you end up finding that one type of disc suits you better than all the others, you have the opportunity to buy the whole set at a discounted price!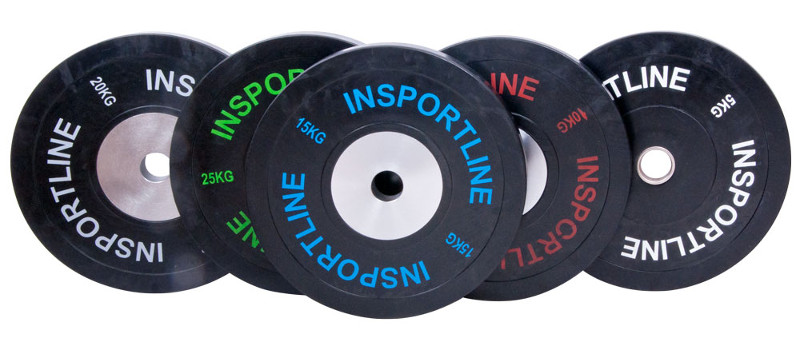 Diameter of the hole
50 mm – The so-called Olympic plates are suitable for barbell bars with an axis diameter of 50 mm. They are usually used in a professional environment.
30 mm – Whether you use them on barbells bar or as weights for fitness machines, 30mm discs are standard for home exercising.
25 mm – Plates with the smallest possible hole diameter are no longer used very often, however, we can still see them, especially at home exercising.
Material
Steel – Sturdy and durable plates made of quality steel are best to work with. Because they are usually rubberized, you can handle them safely without the risk of damaging the plates or the training area.
Cast iron – Cast iron discs are strong and robust, but have no surface finish. They are made of an iron alloy, so careless handling can  for example easily damage the floor.
Cement – Plates with cement filling are cost-effective, but must be used with care. They can be damaged by rough handling, even if they are coated with a protective plastic layer.
Surface finish
Rubber – High-quality surface treatment that dampens not only shocks but also noise on impact. In addition, rubber plates are more resistant to wear.
Plastic – The plastic surface serves as protection of the plates from external influences as well as a safety element during storage.
Read more about weight training with dumbbells: