Multi-Gym Body Craft MiniX -
SPECIAL OFFER
Non-commercial multi-gym, 63 kg in weights, 150kg weight limit, sturdy frame, adjustable seat and orthopedic backrest.
We are sorry, but this product is no longer available.
Recommended accessories
Description
Parameters
Alternatives (2)
Multi-Gym Body Craft MiniX
The Multi-Gym Body Craft MiniX is one of the best machines in its category. The 8.5 x 4.5 frame is covered with special Platinum Gray anti-scratch coating, which makes it extremely durable. The machine offers dozens of ways to effectively exercise your entire body. To strengthen your arms and back muscles, you do butterflies using either the chest or back support.
One of the product's many advantages are fiberglass nylon pulleys with ball bearings that hold the weights (63 kg). Smooth and quiet running is ensured by the flexible nylon-covered steel ropes. Other advantages include an orthopedic backrest that fully supports the user's back. Other necessary features, including backrest, seat and press arm adjustment, make the Multi-Gym Body Craft MiniX a very popular and sought-after product.
Technical description:
Professional multi-gym
Can be used for numerous exercises in various positions
Steel 8.5 x 4.5cm frame tubes
Special Platinum Gray coating (frame is coated with special anti-scratch paint)
Orthopedic back and lower back support (lowers pressure on your spine)
Backrest is covered with vinyl material with double stitching
10 counter pulley inclination positions
7 backrest positions
3 seat positions
Easy resistance adjustment
Impregnated fiberglass nylon pulleys with ball bearings
Flexible nylon-covered steel cables
Pulley diameter: 10 cm / 7.5 cm
Steel weight blocks with nylon casing
50mm weight plate storage peg for adding extra weight
Weights: 63 kg (14 blocks x 4.5 kg)
Seat height (from the ground): 57 – 65 cm
Padding thickness: 6 cm
Weight limit: 150 kg
Dimensions: L 160 cm x W 140 cm x H 208 cm
Lifelong warranty for the frame (for home use)
Category HC (EN 957) – suitable for home and gym use
Training stations: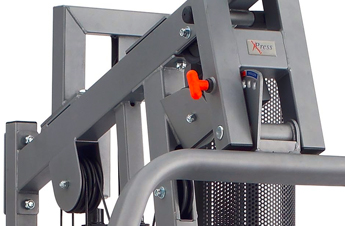 High Stability and Weight Limit
The sturdy steel 8.5 x 4.5cm frame ensures high stability during training. Thanks to the high durability of the frame, lifelong warranty is guaranteed for home use. The frame's durability is further accentuated by special Platinum Gray coating that prevents scratching and other indentations. The frame supports a high weight limit of 163 kg.


Maximum Adjustment
The multi-gym has sophisticated, yet simple resistance and inclination adjustment, therefore allowing the user to adjust the multi-gym according to their needs in a matter of seconds. You can adjust:
10 counter pulley positions
7 backrest positions
3 seat positions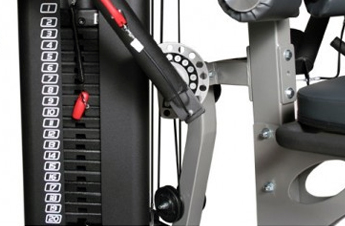 Weights and Pulleys
The user can use a simple mechanism to adjust the resistance weight from 4.5 up to 63 kg. The fiberglass nylon pulleys with ball bearings ensure smooth running. All 15 weight blocks have a nylon casing to increase their longevity.
Multi-Gym Body Craft MiniX - Documents to download
Multi-Gym Body Craft MiniX - Product parameters
Weight limit (kg)
By observing the weight limit of the product, you significantly increase its service life and prevent it from wearing down prematurely. It is not recommended to exceed this limit.
150 kg
Maximum user height
not limited
Butterfly with back support
yes
Butterfly with chest support
no
Pick-up roller (upper)
yes
Pick-up sitting with chest support
yes
Biceps pulley - with support
no
Arm raises (shoulders)
yes
Adduction and abduction (thighs)
no
Cable exercises (abdomen)
yes
Multi-Gym Body Craft MiniX - alternatives -
all in stock
Multi-Gym Body Craft GX
More info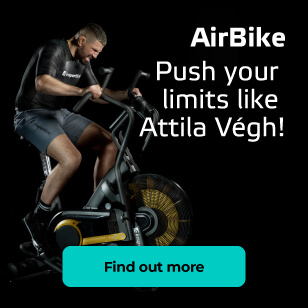 Multi-Gym Body Craft MiniX is included in the following categories: