Multi-Purpose Knee Support Thuasne
Neoprene knee support with thermal insulation, elastic material, slipping on over the foot.
Recommended accessories
Description
Alternatives (1)
Multi-Purpose Knee Support Thuasne
Multi-Purpose Knee Support Thuasne is made of high-quality flexible neoprene. This kind of neoprene has great insulation properties. The temperature of engaged muscles is very important for expanding your veins and thus improving blood flow in a given area. This also stimulates cell functions in a selected area. That's why thermal insulation is one of the most important effects of the Thuasne knee support. The neoprene knee brace relieves pain after an injury, spraining or bruising, making movement easier for you. The multi-purpose knee support is also suitable for preventing ligament damage or inflammation. It allows you to return to activities that would otherwise pose a danger of an injury.


Technical description:
Multi-purpose knee support
Thermal insulation
Relieves pain (after an injury, spraining or bruising)
Anatomically shaped (adjusts to the shape of your knee)
Put on by threading your foot through
Material: high-quality flexible neoprene
Prevention against knee injury/inflammation
Suitable for fixing your knee in place during sports activities
Size table:  
| Size | Knee circumference |
| --- | --- |
| S | 31 - 33 cm |
| M | 34 - 36 cm |
| L | 37 - 39 cm |
| XL | 40 - 42 cm  |
| XXL | 43 - 45 cm  |
Multi-Purpose Knee Support Thuasne - alternatives -
all in stock
Reinforced Knee Support Thuasne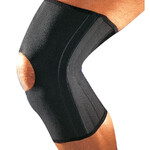 More info
Multi-Purpose Knee Support Thuasne is included in the following categories: