Steel Bracelet W-TEC Sepulco
Dangerous-looking steel bracelet with skull clasp and elaborate details.
Recommended accessories
Description
Alternatives (2)
Steel Bracelet W-TEC Sepulco
You can wear the Steel Bracelet W-TEC Sepulco to a biker get-together as well as metal concert. The decorated, almost-scaly surface looks great from every angle. Moreover, the individual links are decorated with small crosses. You might also appreciate the robust clasp that has detailed skull and crossbones on it. Polished stainless steel contrasts with patina, creating stylish ornamentation on both sides of the bracelet
. Show off this bracelet and let everyone know who they're dealing with. 
Technical description:
High-quality steel bracelet
Perfect for bikers as well as metal enthusiasts
Skull and crossbones on clasp 
Outer side of links decorated with crosses
Elaborate details
Polished stainless steel with patina
Decorations on the inside
Click closure
Thickness: 4.5 mm / 10 mm (clasp)
Length: 22.5 cm
Width: 13 mm
Material: 316L stainless steel
Weight: 110 g
Steel Bracelet W-TEC Sepulco - alternatives -
all in stock
Steel Bracelet W-TEC Consancro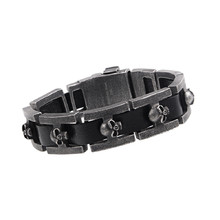 More info
Steel Bracelet W-TEC Osaria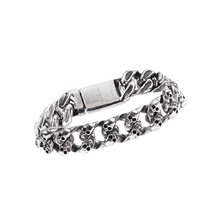 More info
Steel Bracelet W-TEC Sepulco is included in the following categories: