Steel Bracelets
Stylish steel bracelets for those who are not afraid to show off their true self! Sleek surface beautifully contrasts with patina and brings out the decorative details. Massive chains and skulls everywhere - exactly what you need for bikers, heavy metal fans and worshippers of dark powers!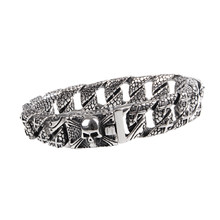 Steel Bracelet W-TEC Sepulco
Dangerous-looking steel bracelet with skull clasp and elaborate details.
Buy