Back Machine Body-Solid SBK-1600G/2 -
SPECIAL OFFER
Commercial piece of training equipment for exercising back muscles, high-quality frame, durable coating, 95 kg of weights.
Recommended accessories
Description
Alternatives (2)
Back Machine Body-Solid SBK-1600G/2
The Back Machine Body-Solid was developed to help you overcome obstacles in your training. The Back Machine has become a popular piece of exercise equipment that will help you relieve chronic back pain and strengthen your back muscles. Its precise design makes it a completely professional product. 
The Back Machine Body-Solid SBK-1600G/2 includes a fully adjustable seat, support rollers and ergonomically shaped adjustable backrest. You do not have to get up to adjust the training load. The revolving resistance point is placed directly at the hip joint area to provide a complete range of natural biometric movement. The unique system of changing resistance allows for a safe and comfortable back workout. 
Included is a seat strap adjustable to any user height that prevents your chest from bending during training. Suitable mainly for everyday commercial use, the Back Machine Body-Solid is designed for safe and effective exercising of your back muscles.
Technical description:
Sturdy frame welded from all four sides
Powder coated surface – anti-scratch
High-quality cables
Unique random orbit disc for changing resistance
Resistance can easily be adjusted from where you exercise
Chrome-coated guide rods for smooth movement
Height adjustable seat and foot support
Weight blocks included: 95 kg (210 lbs.)
Weight (standard weight blocks included): 125 kg
Maximum user weight: 120 kg
Dimensions: length: 117 cm x width 107 cm x height 158 cm
Category S – recommended for all commercial facilities
Back Machine Body-Solid SBK-1600G/2 - alternatives -
all in stock
Triceps Press Down Machine Body-Solid STM-1000G/2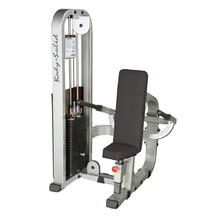 More info
Incline Press Machine Body-Solid SIP-1400G/2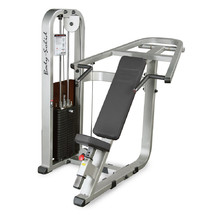 More info
Back Machine Body-Solid SBK-1600G/2 is included in the following categories: