Exercise bag with grips inSPORTline - 15 kg
Versatile fitness bag with handles for the hands and feet inSPORTline FitBag - 15 kg.
Recommended accessories
Description
Parameters
Alternatives (8)
Exercise bag with grips inSPORTline - 15 kg
Exercise bag FitBag - lightning preparation for training, weight mobility, variations of grips and last but not least a perfect storability, make the FitBag an excellent mobile tool for fitness and ski training. It proves to be useful during balance exercises, exercises of dynamic strength and balance training. In addition, mobile handles of the fitness bag FitBag allow you to change the way and breadth of grip, are multiplying exercise variations and allow for functional muscle involvement in a complex movement. When practicing with the fitness bag inSPORTline, there is a phenomenon called functional impulse of strength. Functional impulse of strength is very similar to phenomenons occurring in dealing with complex situations in alpine skiing (on the track inequality, unforeseeable carve of skis, body tilt).
Technical description:
made from high quality nylon material with increased resistence
mobile grips
diameter: 22 cm
length: 55cm
filling: foam / sand
opportunity to practice in all directions, under any angle and in any position
opportunity to practice virtually all muscle groups
load enables operational determination of the optimal exercise intensity, with respect to the level of exerciser, practiced muscle group and focus of the exercise
moving load in a closed space of the bag poses a far greater demands on coordination and balance during exercise than e.g. actual game activities in sports games
tools can be also used for stretching exercises and provides much greater effect than the classical form
during exercise of the major muscle groups there is functional impulse of areas that are excluded in classical strengthening
During the exercise you strengthen these parts: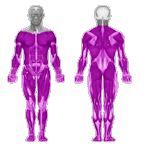 Recommended by Petr Kopriva, the inSPORTline Coach
Exercise will increase your fitness endurance. Regular training promotes weight loss and strengthens the cardiovascular system.
Recommended by Petr Kopřiva, the inSPORTline coach:
Strengthening your stabilization muscles will help you reduce longterm back pain.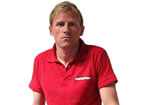 Exercise bag with grips inSPORTline - 15 kg - Product parameters
Exercise bag with grips inSPORTline - 15 kg - alternatives -
all in stock
Exercise bag with grips inSPORTline - 15 kg is included in the following categories: