Unisex moto trousers W-TEC Mihos -
SPECIAL OFFER
Unisex travel and enduro motorcycle pants W-TEC Mihos, protective zones, ventilation holes, reflective elements
We are sorry, but this product is no longer available.
Recommended accessories
Description
Parameters
Alternatives (8)
Unisex moto trousers W-TEC Mihos
Motorcycle pants W-TEC Mihos are modern unisex motorcycle pants with safety zones and closable ventilation system AIR SYSTEM. The pants are made of lightweight, highly durable material. The outer part of the pants is made of waterproof and windproof material MAXDURA + 1000-D strong MATT and the inside of the pants is equipped with a special climate membrane HEATEX. Exposed places of the W-TEC Mihos pants are covered with Hi-Tech fabric TAFETA with high resistance to abrasion. Patented reflective tapes +DYNATEC increase visibility in darkness and maximize the safety of the rider. Critical points of the W-TEC Mihos pants are then equipped with polymer inserts. The possibility of washing the inside part is then ensured by a comfortable removable and washable thermo-liner. All zippers are waterproof and windproof. The pants can also be easily combined with a jacket by inner YKK zippers. The pants are suitable for travel and enduro moto.
Technical description:
unisex motorcycle pants suitable for travel and enduro moto
external light, durable, waterproof and windproof material MAXDURA + 1000-D strong MATT
inner climatic membrane HEATTEX
closable ventilation system AIR SYSTEM
exposed surfaces coated with Hi-Tech fabric TAFETA (high-tech fabric with extreme strength and resistance against water and abrasion)
patented reflective tapes + DYNATEC increasing visibility in the dark for maximum safety of the rider
critical points are equipped with polymer inserts
removable and washable inner thermo-liner
waterproof zippers with windproof protection
patented inner zipper by renowned brand YKK for simple connection of the jacket and trousers (overall)
breathable inner lining
tightening at the waist
unisex cut
low weight
Size Table
 
 
S
M
L
XL
2XL
3XL
4XL
A
Waist circumference
75 (64)
80 (68)
85 (72)
90 (76)
94 (80)
98 (84)
102 (88)
B
Hips circumference
100
104
108
112
116
120
124
C
Thigh circumference
55
57
59
61
63
65
67
D
-
-
-
-
-
-
-
-
E
Trouser leg length from the waist
106
107
108
109
110
111
112
F
Distance between the waist and crotch
64
65
67
69
71
73
75
G
Knee circumference
45
47
49
51
53
55
57
Numbers in brackets denote the value when the waist is maximally tightened.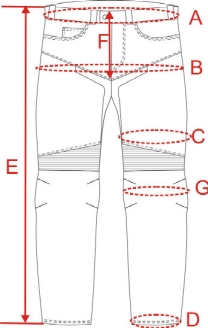 Adam Peschel recommends:
"W-TEC products will keep you safe", says Adam Peschel, Czech professional stuntrider.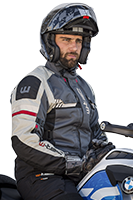 Unisex moto trousers W-TEC Mihos - Product parameters
Jacket zipper connection
Jacket and trousers are secured together by special zippers along the trousers' circumference. Together they make up a comfortable jumpsuit. The complete ensemble provides better protection and prevents wind or water from getting in. For this connection to work, you need a jacket with the same type of zipper, preferably of the same brand and model. If you are not sure your chosen trousers and jacket fit together, feel free to contact our customer support.
yes
Protectors
Quality protectors over the right places prevent injuries during falls. All protectors have been tested to meet the corresponding CE standards. CE certification is given to products that meet required standards for a selected type of product.
yes
Material
It is essential for motorcycle clothing materials to be durable, permeable and wind and water resistant. The Reissa membrane is permeable and at the same time waterproof. It is made of polyurethane, a hydrophilic material that holds in water but not vapour. The Cordura material is extremely resistant to scratching and durable, even though it's very light. As a protection against cuts, Kevlar is 5x more effective than leather and 2x more effective than polyamide or cotton. Cotton is distinguished by great sweat absorption and thremoregulation properties. A special type of cotton fabric is denim, specific for its blue colour. It is durable and wear resistant.
A very popular material among motorcyclists is leather, prized for its thermoregulation properties and wind resistance. The disadvantage of leather moto clothing is that it often doesn't include many protectors.
Synthetic fibres, such as polyester, polyamide or nylon are non-absorption materials that absorb very little moisture and are resistant to scratching and tearing.
Polyester, Tafeta
Reflective features
Reflective features exponentially increase the user's visibility. They are suitable especially for winter months that come with mists and early sunset. However, they shouldn't be forgotten even during summer.
Reflective features on clothing items usually take the form of a reflective lettering or stripes that don't clash with regular wear.
yes
Ventilation
With most moto clothing, ventilation is provided via permeable and breathable material. Ventilation ensures sweat release and allows the skin to breathe better. That's why ventilated clothing is more pleasant to wear.
yes
Removable protectors
Removable protectors are great for those who plan on using their motorcycle clothing casually as well. Without the protectors, your movement won't be limited in any way and the jacket or trousers will be lighter and more comfortable. It is also easier to wash clothes without protectors.
yes
Unisex moto trousers W-TEC Mihos - alternatives -
all in stock
Unisex moto trousers W-TEC Mihos is included in the following categories: