Woman functional new crew-neck Brubeck long-sleeve -
SPECIAL OFFER
Quality thermo-shirt with long sleeves and a sweat removal system
We are sorry, but this product is no longer available.
Recommended accessories
Description
Parameters
Alternatives (4)
Video (1)
Woman functional new crew-neck Brubeck long-sleeve
Brubeck quality thermo-shirt with long sleeves and DRY technology. Fabric with DRY Body Guard technology is moderately thick fabric sewn seamless, providing a fast removal of perspiration, which helps to keep skin dry even during intensive sport activities. Thermo layer has specific areas of increased permeability in areas of higher sweat emission. The whole system provides the right microclimate, releases moisture and helps to maintain a pleasant feeling of freshness. Unique double structure, where the bottom layer ensures removal of perspiration and the top layer maintains optimal body temperature.
Graphical representation of thermo-active properties:
A - Skin
B - Dry Body Guard ™ inner layer
C - Dry Body Guard ™ outer layer
1 - The release of sweat outside
2 - Thermal insulation to the external environment
3 - Maintaining an optimal body temperature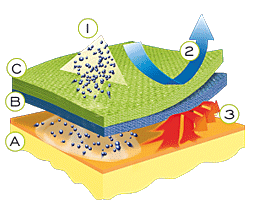 Technical description:
High-quality and flexible material with high resistance
Anatomically correct body shape adjustment
Seamless technology
New design
Material: 75% polyamide, 25% polyester
Suitable for all types of sporting activities and everyday wear
Woman functional new crew-neck Brubeck long-sleeve - Product parameters
Women's/men's/children's
Women's
Woman functional new crew-neck Brubeck long-sleeve - alternatives -
all in stock
Woman functional new crew-neck Brubeck long-sleeve is included in the following categories: