E-Scooter inSPORTline Farday
E-scooter with high-capacity battery (21Ah), powerful e-drive, long range and number of safety features that everyone will fall in love with!
Recommended accessories
Description
Parameters
Alternatives (8)
E-Scooter inSPORTline Farday
The E-Scooter inSPORTline Farday is one of the best e-scooters on the market. Its 25 km/h max speed makes the scooter suitable for road traffic. The powerful, 600W engine allows for breathtaking acceleration. With its 1,300 revolutions, this scooter is an "asphalt ripper". Placed in the rear wheel, the brushless motor is maintenance free. With its 150kg weight limit, roads with a 10-degree slope will be no problem for this scooter, making it suitable for uphill riding. The E-Scooter inSPORTline Farday is perfect not only for riding to work/school, but also for recreational riding and all kinds of trips.

Practical and compact travel buddy
Do you want to be environmentally friendly and stylish at the same time? With the E-Scooter inSPORTline Farday it is no problem! Protect the environment and use this e-scooter that will get you wherever you need to go in the blink of an eye. Moreover, thanks to the easy-to-use folding mechanism, you can fold it up in no time and get on the bus/tram.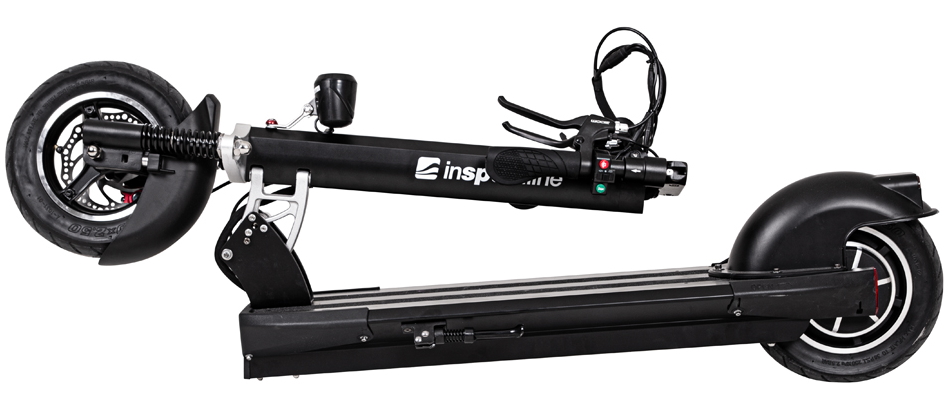 Trips far beyond the city limits
The 21Ah lithium battery allows for a 70km distance range on a single charge (the battery charges to full capacity in 7 to 8 hours). As a result, you can use the scooter more than once before having to recharge the battery. Moreover, you can use the scooter even if the battery is dead. Placed in the deck, the battery will not bother you during the ride. You can easily recharge it using the compact charger, which you can take everywhere you go.


Everything under control
The easy-to-read, color display allows you to follow all the important information such as current speed, battery status, current distance covered, overall distance covered and time. Moreover, the display also features a USB port which you can use to recharge your cell phone. Are you going on a long trip? Use the cruise control. The cruise control activates automatically when the scooter is going at the same speed for a while, allowing you to let go of the throttle lever and fully focus on the road.


Adjustable handlebars
Its adjustable handlebar height (84 – 115cm) makes the E-Scooter inSPORTline Farday suitable for both short and tall users. Moreover, the adjustment is so easy that anyone can do it. 


Comfort and safety
The combination of 10" wheels with high quality tires and suspension allows for a smooth ride and provides excellent riding characteristics. The two reliable disc brakes will keep you safe even at high speeds.


And something more?
Sure! Lighting is another safety feature. Apart from battery-powered front and rear lights, the E-Scooter inSPORTline Farday also features a brake light which lights up when the brake is activated. Moreover, using the rear indicator lights you can signal a change of direction. You may also appreciate the loud electronic horn and practical kickstand. The two fenders will come in handy in adverse weather while the large deck will make you comfortable on longer trips. The wide handlebars with ergonomic, soft foam handle grips provide additional comfort.


Warning: Store the battery in a dry place and away from light, with room temperature between 10°C and 20°C. Before storing it for a longer period of time, charge the battery to full capacity. Repeat the process every month.
By following these instructions, the rated capacity of the battery will not fall below 70% of its total capacity within 12 months of purchase.
Technical description:
| | |
| --- | --- |
| Frame material | Aviation aluminum |
| Engine power | 600 W |
| Engine type | Brushless, DC motor |
| Max engine revolutions | 1300/min |
| Max torque | 9.5 Nm |
| Speed modes | 20/25/48 km/h |
| Max slope | 10° (17.36 %) |
| Battery | Li-Ion 21 Ah, 52 V |
| Distance range on single charge | Up to 70 km |
| Charging time to full capacity | 7 - 8 h |
| Brakes | disc |
| Tires | inflatable |
| Tire size | 10" (25.4 cm) |
| Deck dimensions | 50 x 21.5 cm |
| Deck height (top) | 18.5 cm |
| Deck height (bottom) | 10.5 cm |
| Handlebar height | 84 - 115 cm |
| Handlebar width | 56 cm |
| Lights | Front/rear lights, brake light (automatic), rear indicator lights |
| Dimensions | 120 x 55 x 115 cm |
| Folded dimensions | 115 x 24 x 38 cm |
| Minimum recommended user height | 150 cm |
| Weight limit | 150 kg |
| Weight | 23 kg |
| Setting options | Cruise control, start (w/ push-off, w/o push-off), smooth start |
| Accessories | Folding mechanism, multifunctional color display (battery-powered), loud electronic horn, kickstand, front shock absorber, fenders, USB port for cell phone charging |
E-Scooter inSPORTline Farday - Product parameters
Minimum recommended user height
150 cm
Battery
Li-Ion 21Ah / 52 V
Dimensions
1200 x 550 x 1150 mm
Motor placement
in the rear wheel
Regenerative brakes
Regenerative brakes allow for the transformation of braking energy back into usable electric energy.
no
E-Scooter inSPORTline Farday - alternatives -
all in stock
E-Scooter inSPORTline Farday is included in the following categories: