Inversion Table inSPORTline Verge is a training accessory that was developed to prevent and relieve the pain in your back and the area around your spine. Long-term physical strain of only one part of your body, whether you are sitting down or standing on your feet, is typical for the modern lifestyle. This leads to gradual overstraining and damage of the body areas in question. Most often, there are problems with too much strain on intervertebral discs, hip joints, inner organs or the blood circulation in your legs.

Such issues can be only eliminated by positioning your body upside down, to the most natural position. The inversion table can be smoothly flipped over so that your head is near the ground. In this position, the tension in your muscles is released, which is beneficial to your entire body. If you use the inversion table regularly, you will be able to unblock your back and the respiratory system. Relaxing on the Inversion table inSPORTline Verge is recommended by both masseurs and doctors focusing on recovery.

The frame is made of durable steel material that, combined with the soft padding, provides maximum comfort. Other advantages include a folding frame (similar to a ladder) and the weight limit of 120 kg. Thanks to these features and the table's beneficial effects on your spine and joints, the Inversion Table inSPORTline Verge is a popular and sought-after model.
Technical description:
Inversion table
Durable steel frame
Frame profile: 3.5 cm
Padded backrest and headrest
Cover made of synthetic leather
Padding thickness: 4 cm
Adjustable inversion angle with a safety strap
Rollers to stabilize your feet
Folding mechanism (similar to a ladder)
Maximum user height: 195 cm
Dimensions: length 150 x width 65 x height 150 cm
Weight limit: 120 kg
Weight: 20 kg
Suitable for regular home use
Effects:
Back pain prevention and treatment
Active loosening of muscle tension
Respiratory system relief
Helps to improve poor vein circulation
Helps to relieve stress on intervertebral discs
Helps to relieve stress on hip joints
Helps to relieve stress on inner organs (in sitting position)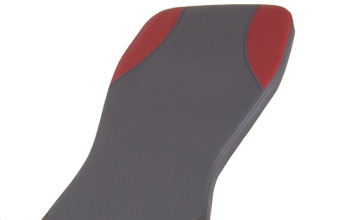 Comfortable backrest
It is important to feel as comfortable as possible while you exercise. For this purpose, there is a back rest with 4 cm thick padding. It is soft and made of durable materials. The surface is covered with synthetic leather, ensuring a long service life and easy maintenance.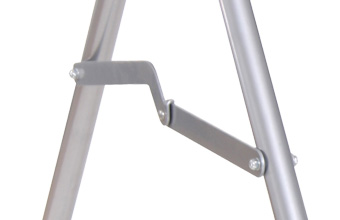 Stable and durable frame
The 3.5 cm thick frame provides maximum stability and durability, guaranteeing the weight limit of 120 kg. Higher stability is further ensured by special anti-slip foot pads on the leg supports. Special coating protects the frame from various scratches or abrasions and ensure a long service life.