Inversion Table inSPORTline Inverso Profi -
SPECIAL OFFER
Weight: 200kg, max user height: 198cm, weight: 52kg, foot locking system, massive steel construction, high padding.
Recommended accessories
Description
Parameters
Alternatives (3)
Video (1)
Inversion Table inSPORTline Inverso Profi
Inversion Table inSPORTline Inverso Profi is a machine designed for preventive and therapeutic use against back and spinal pains. Long-term one-sided loading, be it a sitting or standing position, is typical for our life style. This leads to gradual overloading of body parts and their deformations. The most affected are intervertebral disks, hip joints, inner organs and vein circulation in legs.
These consequences can be eliminated by the most natural way – inversion of the body to an upside down position. This inversion table can turn you into a position, in which the head is lower than legs. This position leads to an active muscle stress relief, positively effecting the whole body. Regular use of the inversion table enhances spine stability and improves respiratory system. Inversion therapy is recommended not only by masseurs, but also by recovery physicians.
The construction of Inversion Table inSPORTline Inverso Profi is made of a durable steel material combined with a soft, high padding for maximum comfort during exercise. The weight capacity of 200kg and adjustable foot locking system are other advantages of this machine. All these features and its positive effects on spine and joints make Inversion Table inSPORTline Inverso Profi highly popular.
Technical description:
Inversion table
Durable, massive frame of steel coil
Frame: 10x4cm
Padded backrest and headrest
Synthetic leather material
Padding height: 5cm, headrest: 7cm
Adjustable inversion angle with 5-level mechanism (-5°, -25°, -50°, -75°, -90°)
Adjustable leg locking system
Foam rollers
Rubber-coated handles
Non-slip legs
Recommended user height: 147-198cm (12 levels of adjustment)
Dimensions: L155 x W82 x H156cm
Weight limit: 200kg
Weight: 52kg
Suitable for regular commercial use
Benefits:
Back pain prevention and treatment
Active muscle stress relief
Respiratory system improvement
Helps to improve poor vein circulation
Helps to relieve stress on intervertebral discs
Helps to relieve stress on hip joints
Helps to relieve stress on inner organs (in sitting position) 
Inversion Table inSPORTline Inverso Profi - Documents to download
Inversion Table inSPORTline Inverso Profi - Product parameters
Dimensions when fully assembled
155 x 82 x 156
Maximum user height
198 cm
Inversion Table inSPORTline Inverso Profi - alternatives -
all in stock
Inversion Table inSPORTline Inverso Heaty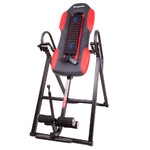 More info
Inversion Table inSPORTline Inverso Plus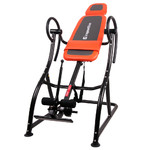 More info
-34%
Inversion table inSPORTline Verge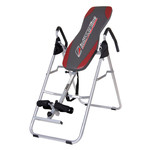 More info
Inversion Table inSPORTline Inverso Profi is included in the following categories: