Folding Trampoline Spartan 140 cm
Folding frame for easy storage, 48 springs, 8 stable leg supports, powder-coated frame.
Recommended accessories
Description
Parameters
Alternatives (1)
Folding Trampoline Spartan 140 cm
Folding Trampoline Spartan 140 cm is a trampoline specially designed for safe jumping. It is easily folded and unfolded without the need for tools. Folding trampoline Spartan 140 cm is made of high-quality durable materials and meets the EN-71 safety standard. Maximum safety is ensured by a padded spring cover. Tasteful powder coating of the frame only adds to its overall appeal.


Our tip:
Technical description:
Folding frame for easy storage
48 springs
8 stable leg supports
Padded spring cover
UV resistant
Powder coating on the frame
Trampoline height: 29 cm
Trampoline diameter: 140 cm
Spring cover width: 14 cm
Weight limit: 100 kg
Weight: 9.65 kg
Dimension of folded trampoline: cca. 103 x 47 x 9 cm
Suitable for both indoor and outdoor use
Additional information:
No tools required for the assembly
Cannot be used as a springboard
Folding Trampoline Spartan 140 cm - Product parameters
Trampoline diameter
An important parameter to take into account when choosing a trampoline is its size. Generally speaking, the bigger the trampoline, the more fun you have. An entire family can use a bigger trampoline, as well as your children's friends. There are many diameters to choose from. From compact 90 cm to the 460 cm maximum diameter.
It is also important to take into account the space needed. It is recommended to keep at least 1 m of free space along the entire length of the trampoline. That means that if you have a trampoline with 457 cm in diameter, you need approximately 6.5 m of space. If you want to place your trampoline indoors, the maximum recommended diameter is 140 cm.
140 cm
Weight limit
By observing the weight limit of the trampoline, you significantly increase the service life of the jumping mat and the springs. The weight limit corresponds with the total weight of all users currently on the jumping mat. It is not recommended to exceed the weight limit.
100 kg
Trampoline height
Height of the jumping mat goes hand in hand with the trampoline's diameter. The larger the jumping mat, the higher it is placed.
29 cm
Safety net
Safety net significantly improves the safety of a trampoline. They prevent the users from falling off the jumping mat and getting injured.
no
Stepladder
Stepladder makes access to your trampoline easier.
no
Handle
Trampoline handle allows you to hold on while jumping. Handles are usually part of trampolines with smaller diameter, suitable for fitness training.
no
Folding Trampoline Spartan 140 cm - alternatives -
all in stock
Foldable Children's Trampoline inSPORTline 122 cm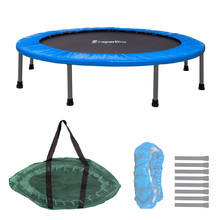 More info
Folding Trampoline Spartan 140 cm is included in the following categories: