Stimulant Nutrend N1 Shot 20x60ml
Professional stimulant in convenient liquid form for immediate use, no shaker or other appliances required.
Recommended accessories
Description
Alternatives (1)
Video (4)
Stimulant Nutrend N1 Shot 20x60ml
The Stimulant Nutrend N1 Shot 20x60ml is a professional stimulant in convenient liquid form for immediate use. No shaker or other appliances are required. It stimulates the body even better than the instant form. It contains some of the most effective ingredients, allowing for massive muscle pumping. The pre-workout Stimulant Nutrend N1 Shot 20x60ml is intended for those athletes looking for maximum performance. A tingling sensation (paraesthesia) is a natural reaction of the body to the extremely active ingredients.
Technical description:
2500 mg Beta-alanine
2000 mg AAKG
1000 mg Taurine
500 mg Glucuronolactone
500 mg Guarana
200 mg Caffeine
200 mg Choline
20 mg DMAE
Recommended dosage: drink 1 shot 15 minutes before physical performance. The maximum daily dose is 60ml. Do not exceed the recommended dosage.
Use: intended for direct consumption, can also be mixed with water and/or sports drink. Use immediately after opening. Shake before use. Possible sediment is natural. Tingling sensation is natural.
Warning: Dietary supplement. Contains sweeteners. Not a substitute for a varied diet. Keep out of reach of children. Store in a dry place at the temperature not higher than 25°C, away from direct sunlight. Do not freeze. The manufacturer is not liable for any damage caused by improper use or storage.
Nutritional value:
 
 

100 ml

1 dose - 60 ml

Beta-alanin

4 167 mg

2 500 mg

L-arginin

3 333 mg

2 000 mg

Taurin

1 667 mg

1 000 mg

Glucuronolactone

833 mg

500 mg

Caffeine

333 mg

200 mg

Guarana extract

833 mg

500 mg

Green tea extract

417 mg

250 mg

DMAE (dimethylaminoethanol)

33 mg

20 mg

Vitamin C

333 mg = 416 % *

200 mg = 250 % *

Choline

333 mg

200 mg

* Reference intake
Ingredients:
Red orange fire flavor -  fire – water, beta-alanine, L-arginine, taurine, acidity regulators citric acid and malic acid, glucuronolactone, guarana extract (10% caffeine, caramel coloring), cholin chloride, green tea extract (40% L-theanin), L-ascorbic acid, caffeine, potassium sorbate preservative, aroma, sodium benzoate preservative, sweeteners neohesperidine and acesulfame K, L-dimethylaminoethanole bitartrace, sweeteners sucralose and steviol glycosides.
Stimulant Nutrend N1 Shot 20x60ml - alternatives -
all in stock
Stimulant Nutrend Explosin 20x9g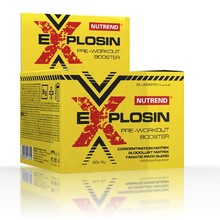 More info
Stimulant Nutrend N1 Shot 20x60ml is included in the following categories: