Gaiters FERRINO Zermatt
Water-resistant gaiters, full length zipper, tightening on top, durable and replaceable under-shoe strap, reflective components.
Recommended accessories
Description
Alternatives (2)
Gaiters FERRINO Zermatt
The Gaiters FERRINO Zermatt are practical, water-resistant gaiters with a full length zipper. To make the zipping/unzipping as easy as possible, the zipper is at the front. Moreover, to make the gaiters even more functional and designable, the zipper is covered with another layer of fabric. The fabric has high density, ensuring an excellent strength to weight ratio. The elastic tightening cord on the top helps secure the gaiter in place. The easily replaceable under-shoe strap is made of DuPont Hypalon, making it abrasion and tear resistant. You may also appreciate the reflective components for better visibility. The Gaiters FERRINO Zermatt are perfect for a number of fall/winter outdoor activities.
Technical description:
Water-resistant gaiters
Full length zipper
Nylon liner
Elastic tightening on top
Durable under-shoe strap
Reflective components (except green variant)
Material: S.L.F. (Strong Light Fabric), DuPont Hypalon
Weight: 330g
Height: 43cm
Calf circumference: 46cm
Gaiters FERRINO Zermatt - alternatives -
all in stock
Gaiters w/ Under-Shoe Strap FERRINO Cervino 2021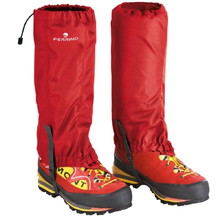 More info
-32%
Gaiters FERRINO Nordend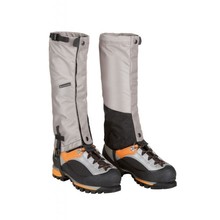 More info
Gaiters FERRINO Zermatt is included in the following categories: