Outdoor Rain Shoe Covers
Outdoor gaiters are a great accessory for any outdoor activity, whether it's summer or winter. In summer, they prevent any objects from making their way into your shoes, be it a small stone or something else. Waterproof shoe covers will help you even when it rains or when you go through wet grass. In winter, they are practically necessary for moving through deep snow.

Outdoor shoe covers will come in handy whether you go hiking regularly or just from time to time.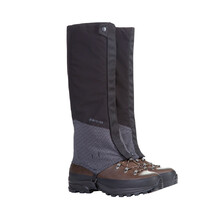 Gaiters Trekmates Nevis GTX - Black
Waterproof Gore-Tex gaiters suitable for all kinds of outdoor activities.
Buy