Spartan Net for 5 balls
Bearing net for 5 pieces of balls
We are sorry, but this product is no longer available.
Recommended accessories
Description
Parameters
Alternatives (1)
Spartan Net for 5 balls
The ball net is intended for a transfer, handling and storage of balls during group ball sports. This ball net is made of quality and solid materials, it is possible to store up to five balls and is easy to carry. Thanks to these materials a long service-life of the net is guaranteed.
Technical description:
net made from solid and very durable material
capacity up to 5 standard-sized balls
mesh dimensions: approx. 11x11 cm
solid twine for easy grip and hanging of the net
Spartan Net for 5 balls - Product parameters
Suitable for
Up to 5 balls
Spartan Net for 5 balls - alternatives -
all in stock
Folding Tennis Ball Basket inSPORTline TB8202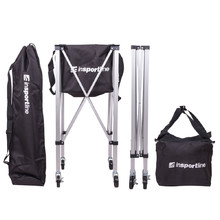 More info
Spartan Net for 5 balls is included in the following categories: