InSPORTline Bambi 97 cm Trampoline with Handlebar
Mini trampoline with handlebar - 97 cm
We are sorry, this product is no more within our offer
Recommended accessory
Description
Parameters
Alternatives (5)
InSPORTline Bambi 97 cm Trampoline with Handlebar
Trampoline with handlebar (122 cm in diameter). Handlebar for holding and recreational training. Handlebar can be removed or attached aggain. Meets the highest safety standard, owns certificates in accordance with the strictest world criteria (EN-71 norm) of the German TÜV NORD testing lab and ASTM Internacioal. Non-corrosive galvanized springs of super high quality. Heavy Duty tubes are galvanized and non-corrosive as well. High bounce mat made of UV-resistant material developed in USA.

TRAMPOLINE:


brand name: INSPORTLINE
Hi Ten steel construction
can be assembled without the use of any tools
can not be used as spring board
circumferential padding
6 legs
diameter: 96 cm
height: cca 30 cm
maximum user weight: 100 kg
trampoline weight: 7.5kg
Handlebar:
height: 117 cm - 127 cm, 3 positions
width:  87 cm
WORKER skates are recommended by Nicol Hlůšková from SSCO WORKER Otrokovice skate team - junior female Czech Republic champion of 2008 in speed skating.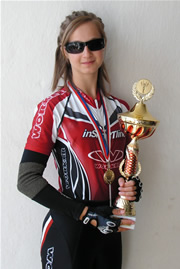 InSPORTline Bambi 97 cm Trampoline with Handlebar - Documents to download
InSPORTline Bambi 97 cm Trampoline with Handlebar - Product parameters
Diameter trampoline
97 cm cm
Loading limit (kg)
100 kg
InSPORTline Bambi 97 cm Trampoline with Handlebar - alternatives -
all in stock
InSPORTline Bambi 97 cm Trampoline with Handlebar is included in the following categories: