Ab Trainer inSPORTline AB Perfect Twist -
SPECIAL OFFER
Effectively exercises abs, waist and back muscles, five moving massage rollers with padding, three resistance levels, spine protection during exercise, easy to fold.
Recommended accessories
Description
Alternatives (8)
Ab Trainer inSPORTline AB Perfect Twist
Ab Trainer inSPORTline AB Perfect Twist is a home exercise and massage equipment that simulates classic push-ups. The back rest has five rolling cylinders with three resistance levels. The cylinders are padded for maximum comfort. They massage your back during exercising and relieve tension from your back. The seat can be rotated, so you can exercise your hips also. Only 5 minutes of training each day exercises your abs, waist and back muscles effectively with an additional massage. Ab Trainer inSPORTline AB Perfect Twist was designed for a quick and easy way to shape your abs without hurting yourself. The frame carefully supports your neck to protect the cervical spine from straining while you exercise. The back support guarantees a healthy way of training. Ab Trainer inSPORTline AB Perfect Twist is a very durable piece of equipment which is easy to move at the same time. It is easy to fold and you may remove the rollers if necessary. This way, you can store the trainer almost everywhere.
Technical description:
State-of-the-art training and massage equipment
Three resistance levels
Back rest
5 massage rollers with bulky padding
Safe, quick and effective home exercise
Back and cervical spine support
Easy to fold
Weight limit: 100 kg
Total weight: 5.8 kg
Dimensions while unfolded: length: 55 cm x width: 58 cm x height: 70 cm
Dimensions while folded: width: 32 x height: 25 cm
Recommended by Petr Kopřiva, the inSPORTline coach:
Strengthening your stabilization muscles will help you reduce longterm back pain.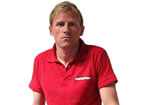 Exercised body areas: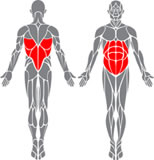 Ab Trainer inSPORTline AB Perfect Twist - alternatives -
all in stock
Ab Trainer inSPORTline AB Perfect Twist is included in the following categories: