Moto Jersey W-TEC Buddyshow NF-5105 -
SPECIAL OFFER
Jersey with double-layered collar, breathable Micro-Mesh, elastic panels made of Lycra fibers, attractive colorful design.
Recommended accessories
Description
Parameters
Alternatives (2)
Moto Jersey W-TEC Buddyshow NF-5105
The Moto Jersey W-TEC Buddyshow NF-5105 is a lightweight motocross jersey that meets the requirements of terrain riding. It is made of 100%, extremely wear resistant polyester. Its loose fit and elastic components provide freedom of movement and maximum comfort. Longer back protects the back in the cold weather. The jersey also features a climate membrane which helps remove moisture, thus keeping your body comfortable and dry. The attractive colorful design of the Moto Jersey W-TEC Buddyshow will catch your attention.
Technical description:
Double-layered front collar
Breathable Micro-Mesh
Sleeve cuffs, back collar made of Lycra fibers
Attractive colorful design
Material: 100% polyester
Size chart:
| | | | | | |
| --- | --- | --- | --- | --- | --- |
| Size | M | L | XL | XXL | 3XL |
| Chest circumference (cm) | 120 | 125 | 130 | 133 | 136 |
| Waist circumference (cm) | 120 | 125 | 130 | 135 | 140 |
| Sleeve length (cm) | 62 | 63 | 64 | 66 | 68 |
| Shoulder width (cm) | 20 | 21 | 22 | 23 | 24 |
Moto Jersey W-TEC Buddyshow NF-5105 - Product parameters
Permeability
Permeable clothing is a guarantee of comfort. It can wick away the vapours (sweat) produced by the human body. The clothing can then "breathe". This kind of material is suitable especially for sports, but can be used for everyday activities as well.
yes
Reflective features
Reflective features exponentially increase the user's visibility. They are suitable especially for winter months that come with mists and early sunset. However, they shouldn't be forgotten even during summer.
Reflective features on clothing items usually take the form of a reflective lettering or stripes that don't clash with regular wear.
no
Trouser zipper connection
Jacket and trousers are secured together by special zippers along the trousers' circumference. Together they make up a comfortable jumpsuit. The complete ensemble provides better protection and prevents wind or water from getting in. For this connection to work, you need trousers with the same type of zipper, preferably of the same brand and model. If you are not sure your chosen trousers and jacket fit together, feel free to contact our customer support.
no
Moto Jersey W-TEC Buddyshow NF-5105 - alternatives -
all in stock
Children's Motocross Jersey Fly Racing F-16 Youth 2019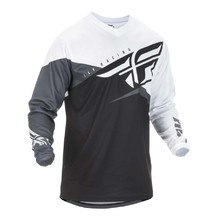 More info
-62%
Moto Jersey W-TEC Enfryso NF-5100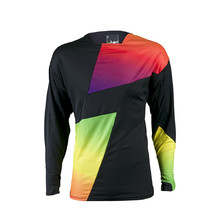 More info
Moto Jersey W-TEC Buddyshow NF-5105 is included in the following categories: