Pennyboard WORKER Colory 22ʺ
Plastic skateboard with multicolor design, anti-slip upper pattern.
Recommended accessories
Description
Parameters
Alternatives (8)
Pennyboard WORKER Colory 22ʺ
Pennyboard WORKER Colory 22ʺ is a plastic skateboard interesting especially with its multicolor pattern, which will be loved especially by the fans of big style and practicality. The ribbing on the upper side prevents feet from slipping off the board and high-precision ABEC 11 bearings guarantee great riding experience. Thanks to its compact dimensions and low weight, Pennyboard WORKER Colory 22ʺ can be carried in a backpack or under the arm, and the playful and spectacular design can't stay unnoticed during your ride.
Technical description:
Highly durable PP deck
Upper anti-slip pattern
Board dimensions: 58 x 15 cm
Trucks: 3ʺ, aluminum alloy, painted
Bushings: PU 85A, yellow
Wheels: 60 x 45 mm
Wheel material: PU, colored
Wheel hardness: 82A
Bearings: ABEC 11 Chrome, color
Max rider's weight: 85 kg
Product's weight: 1.85 kg
Stylish graphic pattern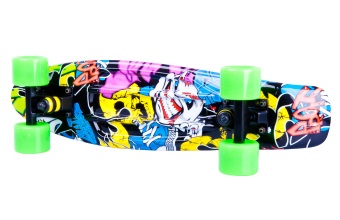 This pennyboard stands out with its multicolor design pattern, which is contrasted with the color of wheels.
Durable chassis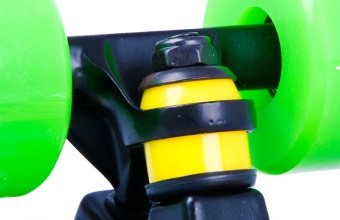 Trucks made of quality painted aluminum, with optimally firm bushings for great durability and riding qualities of the pennyboard.
ABEC 11 bearings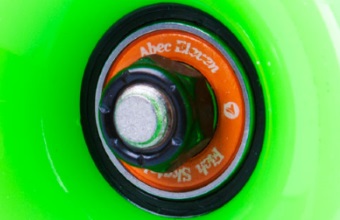 As riding speed and smoothness represent the most important factors during a ride, this pennyboard features industrial highly-precise bearings which will do both.
Pennyboard WORKER Colory 22ʺ - Product parameters
Board length
The length of the board is basically the length of the entire item. The longer the board, the more space there is. On the other hand, shorter boards are easier to carry around. The length is usually given in inches. 1 inch = 2.54 cm.
22 "
Board material
Boards are usually made of wood. The highest quality you can get is Canadian maple. Other types of wood present more affordable options.
The cheapest option are boards made of PVC or other plastic material. Aside from price, their advantage lies also in high durability. However, we recommend them mainly for beginners, only occasional riders and children. They are also not really suitable for stunts. The exception are penny boards, where the majority of products is made of plastic.
PP
Weight limit (kg)
By observing the weight limit of the product, you significantly increase its service life and prevent it from wearing down prematurely. It is not recommended to exceed this limit.
90 kg
Bearings
The ABEC-1 through ABEC-9 scale denotes the presision of the manufacture process. The higher the number, the more precisely the bearings are made (smaller margin). Other scales are used mainly on children's skates.
ABEC 11
Wheel hardness
Wheel hardness between 76A and 90A is ideal for casual skating.
Wheel hardness over 90A is better suitable for speed and race skating.
82 A
Wheel material
These days, most skateboard, penny board and longboard wheels are usually made of the same material - polyurethane (PU) with various admixtures. It's because these wheels have good riding qualities and are resistant to damage. Wheels made of PVC are recommended mainly for children. Their advantage is a low price.
PU rubber
Weight
The total weight of the product.
1.85 kg
Pennyboard WORKER Colory 22ʺ - alternatives -
all in stock
Pennyboard WORKER Colory 22ʺ is included in the following categories: