GPS Sporttester TomTom Spark Fitness -
SPECIAL OFFER
Real-time running information, multisport mode, activity and GPS tracking.
We are sorry, but this product is no longer available.
Recommended accessories
Description
Parameters
Alternatives (8)
GPS Sporttester TomTom Spark Fitness
GPS Sporttester TomTom Spark Fitness is a modern GPS wristwatch suitable for all sportsmen, who want great performance for an affordable price. Spark Fitness represents a highly popular sporttester with a wide range of functions, from the usual burned calories mode to all-day activity tracking or GPS tracking. Its easily readable backlit display shows all relevant information for the selected or current activity. Via Bluetooth technology, this sporttester can be synchronized with smartphones through apps focused on running or on sport activities in general.
Technical description:
Battery lifetime: activity tracking up to 3 weeks, GPS up to 11 hours
Display resolution: 144x168
Display size: 22x25mm
Thickness: 11.5mm
Weight: 46g
Wrist circumference: 121-175mm (S), 143-206mm (L)
Waterproofing: 40m / 130 feet (5ATM)
Supported languages: Czech, English, Spanish, German, French, Italian, Finnish, Portuguese, Dutch, Polish, Norwegian, Swedish, Danish, Chinese (traditional), Chinese (simplified), Indonesian, Japanese
Features and functions:
Treadmill: speed, pace, distance, calories and exercise time
Running: speed, pace, distance, calories and exercise time
Cycling: speed, pace, distance, calories and exercise time
Indoor cycling: exercise time (cadence, speed, pace and distance – via optional cadence sensor)
Swimming: laps, distance, speed, time, calories and strokes
Freestyle: speed, pace, distance, calories and time
Gym: time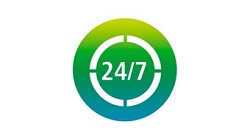 Activity Tracking
Measurements: steps, active minutes, distance, calories and sleep
Views: daily or weekly
Goals: steps, active minutes, distance and calories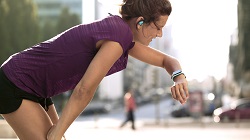 Training:
Race: past activities, favorites, custom
Goals: time, distance or calories
Zone: pace, pulse or speed
Laps: time / distance / manual
Intervals: yes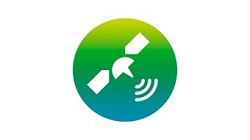 Position Tracking:
Location: GPS + GLONASS
QuickGPSFix: yes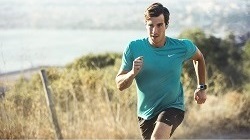 Sensors (integrated): motion sensor (accelerometer + gyroscope), compass
Sensor (wireless): Bluetooth® Smart
Alerts: beep and vibration
GPS Sporttester TomTom Spark Fitness - Product parameters
GPS Sporttester TomTom Spark Fitness - alternatives -
all in stock
GPS Sporttester TomTom Spark Fitness is included in the following categories: