Rubber Weight Plate inSPORTline Bumper Plate 5 kg -
SPECIAL OFFER
Olympic bumper plate, highly durable material, cast iron centre, bumper rubber edge.
Recommended accessories
Description
Parameters
Alternatives (3)
Video (1)
Rubber Weight Plate inSPORTline Bumper Plate 5 kg
Rubber Weight Plate inSPORTline Bumper Plate 5 kg is a droppable weight plate with 50-mm hole diameter, which consists of two parts – cast iron centre and firm, bouncy rubber edge made of a durable rubber resistant to impacts. Bumper weight plates are used especially for weight lifting and cross strength training in fitness centres, workout gyms and similar facilities. The plate can be used as a barbell weight or without the bar to strengthen the body (arms, torso, legs). Due to its high quality manufacture, durability and attractive design, Weight Plate inSPORTline Bumper Plate is popular among weight lifters, strongmen and circuit training practitioners who don't have to worry about dropping the weight onto the floor.


Technical description:
Rubber bumper plate
Hole diameter: 50 mm
High quality manufacture
Stylish design
Wear resistant
Weight: 5 kg
Plate width: 2 cm
Plate diameter: 45 cm
Filling: cast iron with hard chromium plating technology
Bumper material: rubber
Suitable for home and club use
Price for 1 pc
Putting the weight plate off the bar after exercise recommended
Rubber Weight Plate inSPORTline Bumper Plate 5 kg - Product parameters
Weight
The total weight of the product.
5 kg
Filling material
Chromed steel
Rubber Weight Plate inSPORTline Bumper Plate 5 kg - alternatives -
all in stock
Rubber Weight Plate inSPORTline Bumper Plate 15 kg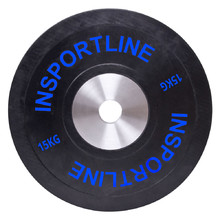 More info
Rubber Weight Plate inSPORTline Bumper Plate 20 kg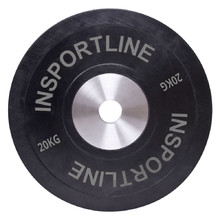 More info
Rubber Weight Plate inSPORTline Bumper Plate 25 kg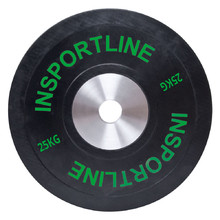 More info
Rubber Weight Plate inSPORTline Bumper Plate 5 kg is included in the following categories: