Ball Chair inSPORTline G-Chair -
SPECIAL OFFER
Ergonomic chair with backrest, 4 wheels, anti-slip surface treatment, sturdy frame, removable gym ball, perfect for office and home use.
Recommended accessories
Description
Parameters
Alternatives (7)
Ball Chair inSPORTline G-Chair
Ball Chair inSPORTline G-Chair is an ideal solution for those who spend long hours sitting – be it at a desk at work or at home. Sitting on a gym ball forces the middle of your body into the correct posture (the correct pelvis and spine position), making you sit upright. Because you need to keep balance, deep stabilizing muscles are engaged. The correct sitting posture is important, as it eliminates muscle tension, back pain, uneven strain on your spine, migraines and other problems. Compared to sitting on a simple gym ball, the chair ball is much more stable, because it is inserted into a sturdy frame holding it in place.
As safety is a top priority, inSPORTline G-Chair offers functional and safety features, such as a height adjustable backrest that supports your lumbar area and provides a feeling of safety, and four wheels equipped with a locking mechanism. After unlocking the wheels, you can move around the room as with a standard office chair. With the wheels locked, on the other hand,  you will have a comfortable and stable chair. The ball can be removed and used for sport, relaxation or reconvalescence.
Sitting behind a desk for long doesn't have to be such a strain on your body anymore. Ball Chair inSPORTline G-Chair guarantees comfy sitting, both at the office or at home.


Technical description:
Perfect chair for long-term sitting
Strong and stable frame
Anti-slip surface
4 wheels with a lock
Removable gym ball
Backrest for lumbar support, height adjustable
Pump included
Height of the base from the ground: 24 cm
Frame material: polyethylene
Ball material: highly durable PVC
Ball diameter: 49 cm
Dimensions: W 61 x L 53 x H 80 cm
Weight limit: 135 kg
Weight: 6.5 kg
User height: 155-185 cm
To be used both at the office or at home
Functions:
Forces the middle of your body into the correct posture
Sitting provides balance training
Engages deep stabilizing muscles
Relieves stress and back pain
Prevents unilateral strain on the spine
Reduces migraine risk
Gym ball can be used for relaxation and recovery exercises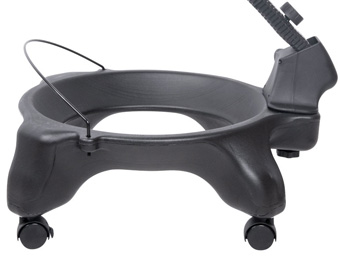 Sturdy frame with wheels
The ball chair's base is made of high-quality PE material. It ensures high durability and therefore also long service life. The chair has four lockable wheels. You can therefore use it as a regular chair or a moving office chair.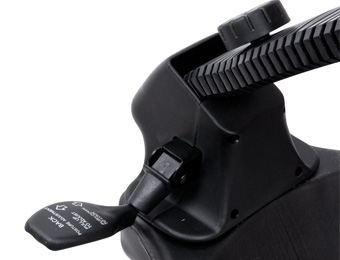 Adjustable backrest
For maximum comfort, there is an adjustable backrest. The backrest supports your lower back, fixing it in place. Optimal backrest height can be adjusted with a regulation screw on the frame. The backrest angle can be adjusted as well.
Recommended by Petr Kopřiva, inSPORTline Fitness Coach
Regular training improves your physical fitness, helps you lose weight and strengthens your cardiovascular system.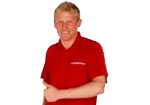 Ball Chair inSPORTline G-Chair - Documents to download
Ball Chair inSPORTline G-Chair - Product parameters
User's height
| Your height in cm | Ball Ø in cm |
| --- | --- |
| under 150 | 45 |
| 150 - 165 | 55 |
| 165 - 175 | 65 |
| 175 - 185 | 75 |
| 185 - 195 | 85 |
| over 195 | 95 |
155-185 cm
Weight limit (kg)
By observing the weight limit of the product, you significantly increase its service life and prevent it from wearing down prematurely. It is not recommended to exceed this limit.
135 kg
Weight (g)
The total weight of the product.
6500 g
Material
PVC, polyethylene
Ball Chair inSPORTline G-Chair - alternatives -
all in stock
Ball Chair inSPORTline G-Chair is included in the following categories: