Adjustable Dumbbell Laubr Salamander 10 kg
Dumbbell set with plastic surface suitable for home use, safety collars.
Recommended accessories
Adjustable Dumbbell Laubr Salamander 10 kg
Adjustable Dumbbell Lauber Salamander 10 kg is a practical dumbbell set. It includes four weight plates in two different weight variations, one bar and safety collars. The weight plates are made of high-quality durable plastic material with cement filling. There is an anti-slip grip so you can maintain a better hold on the dumbbell. The whole set is made in stylish and colourful design.


Technical description:
Stylish design
Bar with threads on both sides for better weight plate adjustment
Plastic anti-slip grip
Plastic weight plates with cement filling
Weight marked on the weight plates
Plastic safety collars to secure the weight plates
Suitable for home use
Will help you exercise your arms and chest muscles
Set includes:
1 x 35 cm long bar with plastic grip and thread, 30 mm diameter, weight 0.75 kg
2 x 2.75 kg plastic weight plates with cement filling, 22 cm diameter, 3.5 cm width
2 x 1.75 kg plastic weight plates with cement filling, 19 cm diameter, 3 cm width
2 x plastic threaded safety collar
Exercised body areas: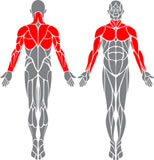 Adjustable Dumbbell Laubr Salamander 10 kg - Product parameters
Coating
Dumbbells are most commonly coated with either rubber or vinyl. Both are highly resistant to wear and damage. They are easily washable and comfortable to the touch. The vinyl models are filled with cement, the rubber ones with steel. Neoprene coating can be found on lighter dumbbells filled with sand.
Plastic
Filling
In Kettlebels and Vin-bells, we can find three types of filling. The first is cement, with the advantage of lower price. On the other hand, when compared to steel filling, its volume is a bit higher. Steel filling is, however, more expensive. The third type of filling is made of fine sand, found mainly in neoprene dumbbells.
Cement
Adjustable Dumbbell Laubr Salamander 10 kg is included in the following categories: