Swings and Seesaws
A garden swing allows you to relax on fresh air and forget all of your worries. And what about a hammock or a hanging chair – now that's a way to unwind in the summer! You can also get children's outdoor swings and seesaws that will surely be a hit with all the children in the family, and not just them. Thanks to high-quality swings and seesaws from diverse brands Yate, Worker or Spartan, you can let go of your troubles, get comfortable and make your summer moments more pleasurable.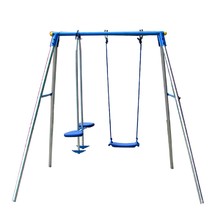 Children´s Garden Swing
Garden swing ideal for 3-12 year-old children.
Material
Steel/stainless steel
Dimensions
212 x 166 x 200 cm
Number of people
2 children
Buy
WORKER LitleKid Swing
Classic children seesaw, age 3 - 10
Dimensions
172 x 53 x 36 cm
Number of people
2 children
Buy