Road Bikes
Road Bikes are suited mainly for riding on quality-surface roads and for sport activities. The bike frame is designed for aerodynamic position, minimal rolling resistance and perfect force transfer. The bicycles have only necessary components and speed-oriented gear shifting so they are lighter than any other bike types.
We offer a wide range of road bikes, from regular to professional models. For selected models, we offer a prolonged 5-year warranty and post-warranty service at our Prague, Ostrava and Vítkov stores.
Interested in buying a bicycle? Consult our advice page.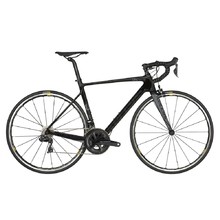 Road Bike KELLYS URC 90 28" – 2019
3 519,60 € (9%)
3 199,60

€
Racing bike with carbon frame, excellent riding characteristics, lightweight, lever …
Frame
Kellys iCAD RC Carbon Composite
Buy