inSPORTline Rubber-Coated Dumbbell Set
Rubber-coated dumbbells inSPORTline have a chromed handgrip with anti-slip grooving and rubber-coated steel weights. Thanks to their rubber surface, the dumbbells are easy to handle and they are a very popular item both at commercial and home gyms.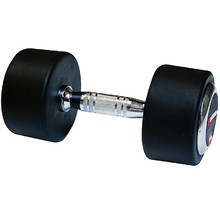 Rubber Dumbbell inSPORTline Pro 50 kg
Modern rubber dumbbell for multi-purpose workouts, grooved anti-slip grip.
Coating
Chrome/rubber coating
Buy