Kickstands for E-bikes Kellys
E-bike kickstands have a reinforced body to support the higher weight of your electric bike. Thanks to a kickstand, you will never scratch your bike again or be forced to prop it against a wall, fence or even put it on the ground.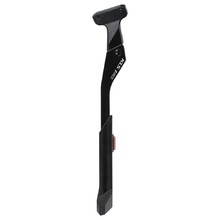 Rear Mount Bicycle Kickstand Kellys e-Kick 24"-29"
Adjustable (no tools required), aluminum, stainless finish, weight limit: 25kg.
Buy