Dumbbell Sets Laubr
In this category, you'll find various dumbbell sets, either single-handed or double-handed. You can choose according to weight, material and colour.
You can either buy a simple dumbbell set or an adjustable one. You'll save money if you buy a dumbbell set instead of buying all the dumbbells in the set individually.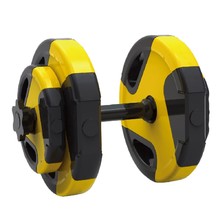 Adjustable Dumbbell Laubr Salamander 10 kg
Dumbbell set with plastic surface suitable for home use, safety collars.
Buy