Crossover Pulleys
Cable crossover pulleys are two vertical pulley stands connected by a horizontal bar that usually serves as a pull-up bar as well. The entire frame can consist of four pulleys (two at each side, upper and lower) or adjustable pulleys (one at each side) that can be set to several positions. Pulleys are used for for a wide range of exercises that engage your whole body. Because of their versatility, they should be a part of every gym or fitness centre.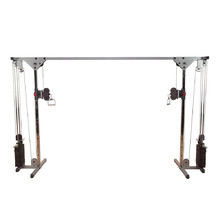 Crossover Machine Body-Solid GCC0150S
1 696,10 € (10%)
1 523,10

€
Sturdy and revolutionary machine for strengthening your entire body, various …
Buy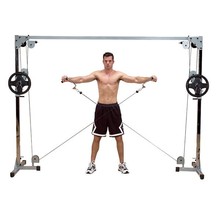 Crossover Machine Body-Solid PCCO90X
One of the most versatile and effective workout machines, system of 4 nylon pulleys.
Buy