SPARTAN Quick Kick Football Protectors
Quick Kick Football Protectors
Recommended accessories
Description
Parameters
Alternatives (1)
SPARTAN Quick Kick Football Protectors
Quick Kick football pads are designed to reduce the risk of injury of leg as much as possible and are now an integral part of football kits. These protectors provide full protection and protect shins, achilles tendons and ankles. The surface of the football pads is made of very hard and durable plastic shell. The inner part consists of high quality material that is comfortable to wear, perfectly adherent, and efficiently removes sweat. The advantage of these protectors is their low weight and adjustable width by easy-to-use system of straps. Quick Kick football pads are available in sizes for juniors and seniors.
Technical description:
Quick Kick football pads provide triple protection of shin bones, ankles and Achilles tendons
external parts made of highly durable plastic shell
inner part is perfectly adhessive and efficiently carries sweat away
advantage of the protectors is their very low weight
easily adjustable width with straps system
available in sizes Junior and Senior
SPARTAN Quick Kick Football Protectors - Product parameters
Fastening
Bandages usually have one of two types of fastenings. Velcro straps ensure perfect and adjustable fit. There are also elastic bandages that don't have any fastening and are just stretched over the joint in question. This way, the bandage fits perfectly. However, they can only be used by people with the same leg or arm circumference.
Velcro
Protection
Achilles tendons, Shins, Ankles
SPARTAN Quick Kick Football Protectors - alternatives -
all in stock
SPARTAN Free Kick Football Protectors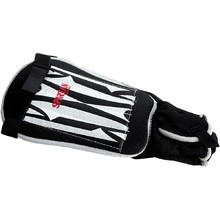 More info
SPARTAN Quick Kick Football Protectors is included in the following categories: