Trekking poles inSPORTline Sajama
Adjustable and folding poles, low weight, special quick-fastening system Fast Lock, carbide tip, aluminum body, adjustable straps.
We are sorry, but this product is no longer available.
Recommended accessories
Description
Parameters
Alternatives (8)
Video (2)
Trekking poles inSPORTline Sajama
Trekking poles InSPORTline Sajama are made from lightweight, durable aluminum. The tip of the poles is made of a special material called carbide, which has excellent properties in hardness. This material is formed by molding a metallic material under a high pressure and at high temperature. Because of this, the tip ensures maximum durability and long service-life. The height of the trekking poles inSPORTline Sajama can be set using a simple mechanism Fast Lock, which allows you to set the size in a range of 110-135 cm within a few seconds. It is also possible to fold the poles completely, and that is by splitting into three parts. Ergonomically shaped handles made of a foam material are fitted with an adjustable strap, which allows a firm and comfortable grip. Other advantages include low weight of 211 g, small size when folded or removable heels for different terrains. Included in the package is a handy container in which it is possible to carry the poles. Thanks to these excellent properties the trekking poles inSPORTline Sajama have become favourite equipment for summer, but also for winter season.
Technical description:
quality adjustable poles
removable heels for different terrain
removable caps for comfortable walking in the snow
adjustable handle straps
textile cover included
quick-fastening system Fast Lock
poles length: 110-135 cm (adjustable)
poles diameter: 16/14/12, 2 mm
material: aluminum alloy 7001
handles: foam with plastic cap
handles length: 29 cm
tip: carbide
heel: rubber
hole weight: 211 g (without heel and cap)
size when folded: 36.5 cm
suitable for summer and winter season
price for 1 pair
Quick setup of the Fast Lock system

1. unlocking the safety lock                     2. setting the length and tightening by nut         3. securing the lock
Recommended by Petr Kopriva, the inSPORTline Coach

Recommended by Petr Kopřiva, inSPORTline Fitness Coach
Regular training improves your physical fitness, helps you lose weight and strengthens your cardiovascular system.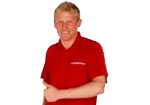 Trekking poles inSPORTline Sajama - Product parameters
Material
There are several materials to choose from - aluminium, fibreglass, carbon or some combination of the previous three.
The heaviest - and the cheapest - is aluminium. Aluminium poles are sutiable for undemanding users that use them mainly as a support.
Fibreglass poles are  lighter than aluminium ones, but are better suitable for softer surface.
More experienced trekkers should have carbon poles. The material is light, hard and absorbs shocks well.
Aluminium
Number of parts
Nordic Walking poles are usually robust, single-piece and cannot be telescopically shortened. However, there are two- or three-piece models available as well, making storage and travelling easier.
Telescopic trekking poles can be found practically anywhere. Their adjustale length is necessary for moving through various terrain. Also, one pair of poles can be used by several people.
3
Rubber protection tips
An option to protect the sharp tips with rubber protection on hard and even terrain. Protection tips also reduce the unpleasant noise the metal makes when it comes into contact with the ground.
yes
Pole length
To calculate the correct pole length, multiply your height by 0.68. When you grip the pole in a vertical position, your upper arm and forearm should be at right angle.
110-135 cm
Trekking poles inSPORTline Sajama - alternatives -
all in stock
Trekking poles inSPORTline Sajama is included in the following categories: