Avalanche Backpack Mammut Free 28 Removable Airbag 3.0 28 L -
Black
Lightweight and compact backpack with an airbag that can save your life. Apart from that, it also boasts a pre-shaped back, full rear zipper access to the main compartment and hydration pack compatibility.
Recommended accessories
Description
Parameters
Alternatives (1)
Video (1)
Avalanche Backpack Mammut Free 28 Removable Airbag 3.0 28 L
Small on weight, the Avalanche Backpack Mammut Free 28 Removable Airbag 3.0 28 L is lightweight and has everything you expect from an avalanche backpack, i.e. it increases the chance of survival in the event of an avalanche. The Airbag System 3.0 is dependable, long-lasting and one of the lightest on the market. Orange elements make you more visible from a distance.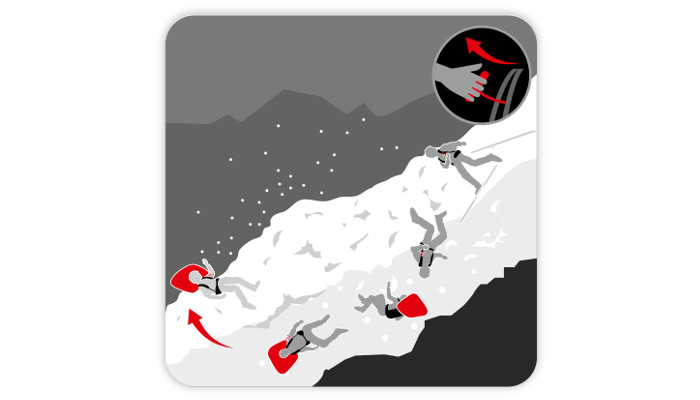 Based on running vests, the backpack was designed to sit to the body and not move from side to side. Optimized hip belt and shoulder straps, as well as the new 3D-molded back panel, offer incredible comfort and a perfect fit. The main compartment is conveniently accessible both from the top and through a zipper opening on the back. You can attach your skis or snowboard using the pull straps, and keep your safety equipment in the separate high-visibility orange compartment. The backpack is PFC-free, and the outer fabric and lining are made of recycled material. To top it all off, the Free 28 has useful features such as a helmet holder, side compression straps and loops for your poles.

The height-adjustable deployment handle can be folded up and stored in the shoulder strap. The entire airbag system (the airbag, carbon cartridge and deployment handle) can be removed, if necessary. Suitable for ski mountaineering or freeriding, the Avalanche Backpack Mammut Free 28 Removable Airbag 3.0 28 L is a practical backpack that can save your life.
Technical description:
Contains Removable Airbag System 3.0: dependable, light and compact system with a height-adjustable deployment handle and a vibrant orange airbag balloon. System transferable between compatible backpacks
Front pocket for avalanche safety equipment
Full rear zipper access to the main compartment
High-density, 2-layer EVA back padding; hip belt and shoulder straps with a stretch fabric cover
Thermoformed back for high level of carrying comfort
Lateral compression straps
Diagonal ski carrier
Snowboard attachment
Split board mounting (board can also be attached in two parts)
Daisy chain loop to secure additional gear
Two attachments for ice axe and trekking poles
Soft-lined goggle pocket
Integrated helmet carrier
Radio pocket
SOS label with emergency instructions
Hydration system-compatible
Weight: 2.24 kg (1.23 kg without the airbag system)
Dimensions: 54 x 19 x 28 cm
Capacity: 28 L
Airbag capacity: 150 L
Warning: 

cartridge

 for inflating the airbag is NOT included
Avalanche Backpack Mammut Free 28 Removable Airbag 3.0 28 L - Product parameters
Weight (g)
The total weight of the product.
2235 g
Reflective features
Reflective features exponentially increase the user's visibility. They are suitable especially for winter months that come with mists and early sunset. However, they shouldn't be forgotten even during summer.
Reflective features on clothing items usually take the form of a reflective lettering or stripes that don't clash with regular wear.
yes
Ergonomically shaped back
yes
Avalanche Backpack Mammut Free 28 Removable Airbag 3.0 28 L - alternatives -
all in stock
Avalanche Backpack Mammut Light Protection Airbag 3.0 30L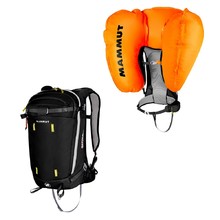 More info
Avalanche Backpack Mammut Free 28 Removable Airbag 3.0 28 L is included in the following categories: