Heated Insoles Glovii GW4U
Heated insoles, heating controlled through the Glovii app or manually, high-capacity battery, suitable for sports, hiking and everyday use.
Recommended accessories
Description
Parameters
Alternatives (3)
Heated Insoles Glovii GW4U
Ideal for winter sports (especially skiing), hiking and everyday use, the Heated Insoles Glovii GW4U will keep you warm even during the coldest days. There are carbon fibers at the front of the insoles which provide the heating. These fibers not only provide even heat distribution, but also emit infrared rays which help improve blood circulation. What's more, they are extremely reliable and have a long lifespan.
These insoles will take your time spent on the mountain to another level. Ultra-thin, heated and extremely comfortable, they will keep your feet warm regardless of the conditions. Special batteries with ski boot (or any other high boots) holders provide ultimate comfort.
There are 3 different heating modes to choose from, allowing you to adjust the heating intensity to your liking/the current weather conditions. The heating intensity can be controlled not only manually, but also through the Glovii app (Android / iOS), which means you won't have to bend all the way down to change the heating mode. Among other things, the app shows the capacity of each battery in percent. From now on, each moment spent on your skis will be filled with warmth and joy. 
The rechargeable lithium batteries can last for up to 8 hours. Last but not least, the Heated Insoles Glovii GW4U can be conveniently cut to size as needed (just follow the lines).
Technical description:
Heated insoles
Can be cut to size between 36 and 48
Even heat distribution – at the front of the insoles
3 heating modes
Heating element: carbon fiber, 1.8 W
Battery: 1,200 mAh (8.88 Wh) Li-Pol, w/ battery status indicator
Modes: 33% (low, 34°C), 66% (medium, 39°C), 100% (high, 44°C)
Battery life: 8 hrs. (low), 4 hrs. (medium), 2 hrs. (high)
Material: polyester
Weight: 220 g 
Thickness: 5 mm
Battery size: H 67 x W 46 x D 23 cm (w/o holders)
Boot holder height: 78 mm
Connecting cable length: approx. 63 mm
Comes with a cloth bag
Comes with a holder for attaching to ski or other high boots and a bifurcated connecting cable
Note: The image of the bottom side of the insoles is for illustration purposes only; it can be black
Note: Always follow the instructions in the manual when cleaning heated clothes. It is recommended to only clean the surface with a damp cloth and a small amount of cleaning product. In case more thorough cleaning please follow instructions in the manual. Alaways secure and insulate the power cord. Never wash the product while the battery is connected.
Heated Insoles Glovii GW4U - Product parameters
Heating unit
Carbon fibres
Heated Insoles Glovii GW4U - alternatives -
all in stock
Heated Insoles Glovii GW2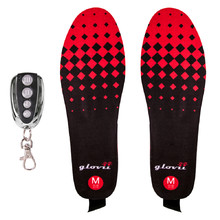 More info
Heated Insoles W-TEC Karpatos
More info
Heated Insoles W-TEC Ondrejnik II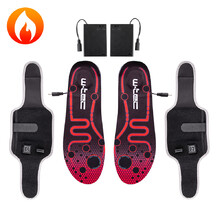 More info
Heated Insoles Glovii GW4U is included in the following categories: