E-Scooter Racceway E-Fichtl 20 Ah 16" Blue
Comfortable scooter with a quiet, environmentally-friendly electric drive that doesn't require a driver's license.
Recommended accessories
Description
Parameters
Alternatives (2)
E-Scooter Racceway E-Fichtl 20 Ah 16" Blue
The E-Scooter Racceway E-Fichtl 20 Ah 16" Blue is your gateway to carefree riding without annoying formalities. This scooter is a small electric moped that brings you a revolutionary riding experience. With zero fume emissions and quiet operation, this vehicle is environmentally friendly.
However, the best thing about this bad boy is that you don't need a driver's license! You can ride it whenever you feel like it. It boasts a powerful e-drive with a nominal performance of 500 W, which, however, is electronically limited to 250 W (in accordance with regulations). The max speed, too, is limited to a safe 25 km/h.
Thanks to larger wheels and precision shock absorbers, the scooter can deal with all kinds of surfaces, including dirt roads. What's more, it is equipped with regular pedals, making it a versatile vehicle. Despite the scooter's weight (80 kg), pedaling is extremely easy and unchallenging. Like modern automobiles, this scooter, too, is equipped with a remote control with built-in alarm.
Both day and night lights are power-saving LEDs, which not only improves your visibility but also reduces power consumption. All in all, the E-Scooter Racceway E-Fichtl 20 Ah 16" is exactly what you've been looking for – combination of environment friendliness, comfort and freedom.
Technical description:
| | |
| --- | --- |
| Operating voltage | 48 V |
| Engine type | brushless (in the rear wheel), 250 W (max. 500 W) |
| Max. incline | ca. 15-20% |
| Battery type | 20 Ah Pb, leaden, detachable |
| Battery weight | 28 kg |
| Max speed | 25 km/h |
| Distance range on a single charge | Up to 60 km |
| Charging time | 6-8 h |
| Brakes | Hydraulic disc |
| Wheel size | 16" (40,64 cm), inflatable |
| Seat height | 75 cm |
| Handlebar dimensions  | W 67 cm x H 99 cm |
| Overall dimensions | L 184 x W 69 x H 123 cm |
| Package dimensions | L 168 x W 42 x H 85 cm |
| Lights | Front and rear LED |
| License plate | NE |
| Max load capacity | 120 kg |
| Weight | 80 kg |
| Accessories | Pedals, reflectors, rearview mirrors, turn signals, remote control with alarm, trunk, main and side kickstand, fenders, front and rear suspension |
Note: The moped is not subject to registration and therefore doesn't require a driver's license. You need, however, to wear head protection (a certified helmet) and have your COC and liability insurance (the so-called green card) documents on you.
E-Scooter Racceway E-Fichtl 20 Ah 16" Blue - Product parameters
Motor
bezkartáčový, 250W (max. 500W), (v zadním kole)
Battery
20 Ah Pb, lead, vyjímatelná
Brzdy
hydraulické kotoučové
Weight
The total weight of the product.
80 kg
Weight limit (kg)
By observing the weight limit of the product, you significantly increase its service life and prevent it from wearing down prematurely. It is not recommended to exceed this limit.
120 kg
E-Scooter Racceway E-Fichtl 20 Ah 16" Blue - alternatives -
all in stock
E-Scooter Racceway E-Babeta 12 Ah 18" Blue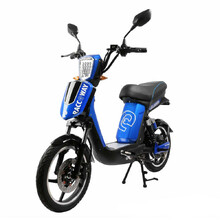 More info
E-Scooter Racceway E-Babeta 12 Ah 18" Burgundy Metallic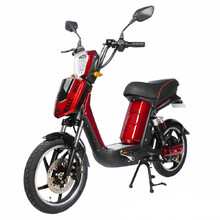 More info