The Waterproof Gloves DexShell Ultralite 2.0 are the most dexterous and flexible DexShell waterproof knit gloves with COOLMAX® liners. The new version 2.0 was designed to have more flexible fingers and an indented palm up to the cuff, thus providing much better fit than version 1.0. 
What's more, the gloves are touchscreen compatible, meaning you can stay connected whatever the weather. Thanks to their seamless construction, the gloves are extremely comfortable and will keep your hands warm and dry during all kinds of outdoor activities where your hands might get wet.

Porelle® waterproof breathable membranes have been engineered for lamination to create high performance fabrics for different market applications. These durable membranes are also resistant to a range of chemicals and weak acids. Porelle membranes are manufactured by PIL Membranes Ltd with over 40 years' experience in the marketplace.

COOLMAX® is a performance yarn that includes an effective fiber-based moisture management system. The system can move perspiration away from the body, through the fabric, and transfer out of the wear. It can evaporate quickly, allowing the wearer to feel cooler and much more comfortable. COOLMAX® fresh FX has the permanent anti-bacterial performance due to the special treatment by silver-based additive during production.
Technical description:
Seamless waterproof gloves
Extremely warm and breathable
Wick sweat away from palm and fingers
Perfect grip even in adverse weather
Anti-slip palm
Touchscreen compatible meaning you can stay connected whatever the weather
Porelle membrane: 100% waterproof, elastic, durable and breathable
Inner material: 65% Coolmax FX (PE), 33% nylon, 2% elastane
Outer material: 35% polyamide, 34% viscose, 27% polyester, 2% elastane, 2% elastodien
Weight: 90 g
Suitable for spring and/or fall
Suitable for hiking, motorcycling, cycling or everyday use
Heat comfort: 

Size chart:
| | | | |
| --- | --- | --- | --- |
| Size | Palm circumference at widest point | EU | UK |
| S | 18 - 20 cm | 7 | 7-8 |
| M | 20 - 23 cm | 8 | 8 |
| L | 23 - 25 cm | 9 | 9 |
| XL | 25 - 27 cm | 10 | 10 |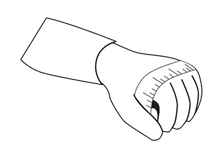 Measure in the center of the palm, around the knuckles.