Medicine Ball Rebounder inSPORTline CF060
A small trampoline for training with a medicine ball in gyms, at home or outdoors, suitable for plyometric exercises.
Recommended accessories
Description
Parameters
Alternatives (8)
Video (1)
Medicine Ball Rebounder inSPORTline CF060
Medicine Ball Rebounder inSPORTline CF060 is a modern trampoline with a tilted spring mat so that it can bounce a medicine ball and thus meet the requirements of plyometric exercises. These are focused mainly on developing dynamic strength, focusing either on the whole body or just individual areas. The trampoline is therefore suitable for all types of people who perform these exercises, because they will never need an assistant again for their training. This trampoline will be also appreciated by coaches who, with its help, will be able to engage all their trainees, both outdoors and indoors. The tilted mat of the trampoline can be inclined to 8 different positions. It is also possible to attach weights to the trampoline to ensure its stability.


Technical description:
Trampoline with a tilted spring mat for medicine ball exercises
Suitable for plyometric exercises
A great accessory for developing dynamic strength
Can be used both outdoors and indoors
Rebounds the medicine ball
Additional weights can be purchased separately and attached to the trampoline (hole diameter 50 mm)
8 adjustable inclination positions
Trampoline diameter: 90 cm
Height : 23 - 78 cm
Angle: 57 - 78°
Weights not included
Exercised body areas: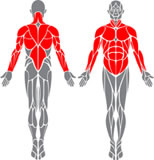 Medicine Ball Rebounder inSPORTline CF060 - Documents to download
Medicine Ball Rebounder inSPORTline CF060 - Product parameters
Adjustable height
23-78 cm
Trampoline diameter
An important parameter to take into account when choosing a trampoline is its size. Generally speaking, the bigger the trampoline, the more fun you have. An entire family can use a bigger trampoline, as well as your children's friends. There are many diameters to choose from. From compact 90 cm to the 460 cm maximum diameter.
It is also important to take into account the space needed. It is recommended to keep at least 1 m of free space along the entire length of the trampoline. That means that if you have a trampoline with 457 cm in diameter, you need approximately 6.5 m of space. If you want to place your trampoline indoors, the maximum recommended diameter is 140 cm.
90 cm
Medicine Ball Rebounder inSPORTline CF060 - alternatives -
all in stock
Medicine Ball Rebounder inSPORTline CF060 is included in the following categories: