Back Hyperextension inSPORTline Hero BTB10 -
SPECIAL OFFER
High stability, soft backrest, frame profile 50 x 50 mm, 45° inclination, anti-slip grips, foldable for easier storage.
Recommended accessories
Description
Alternatives (4)
Back Hyperextension inSPORTline Hero BTB10
Hyperextension inSPORTline Hero BTB10 is one of the most effective tools for toning your abs. The steel frame with 50 x 50 mm profile and 100 kg weight limit provides high stability. Foam cylinders and a soft backrest will make your exercises comfortable to the maximum. Back Hyperextension inSPORTline Hero BTB10 also features non-slip handles to maintain stability while exercising or in case precise positioning is needed for your training. Thanks to the 45° inclination angle and adjustable height, you will be able to completely exercise your oblique abdominal muscles, lower back and glutes, as well as your knee ligaments, which are always difficult to stretch or strengthen. Thanks to these excellent atributes, Back Hyperextension inSPORTline Hero BTB10 has become a very popular and sought-after training equipment for home use.


Technical description:
Equipment for toning your abs and back muscles
Exercises improve blood circulation and relieve back pain
Steel frame with 50 x 50 mm profile
Durable coating
Soft backrest
Comfortable foam cylinders
Anti-slip handles, 25 mm in diameter
Padding dimensions: L20 cm, W41 cm (30 cm at the narrowest point), H4 cm (8 cm at the top)
inclination: 45°
Number of positions: 6
Dimensions: length 100 cm x width 56 cm x height 80 cm
Weight limit: 100 kg
Weight: 10 kg
Category HA (according to EN 957), suitable for home use
Recommended by Petr Kopřiva, the inSPORTline coach:
Strengthening your stabilization muscles will help you reduce longterm back pain.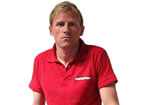 Exercised body areas: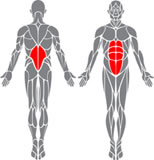 Back Hyperextension inSPORTline Hero BTB10 - alternatives -
all in stock
Back Hyperextension inSPORTline Hero BTB10 is included in the following categories: