Trampoline with handlebar inSPORTline PROFI Digital 140 cm -
SPECIAL OFFER
PROFI trampoline 140 cm with a computer, for both home and commercial use, load capacity 100 kg, durable reinforced construction, adjustable handle.
Recommended accessories
Description
Parameters
Alternatives (2)
Trampoline with handlebar inSPORTline PROFI Digital 140 cm
Trampoline with a handle inSPORTline PROFI Digital 140 cm (with handle) is a modern trampoline for club training of physical activities, newly completed by a computer. Trampoline inSPORTline PROFI Mini Digital 140 cm is fitted with a handle for holding and for fitness exercises. The handle can be attached and removed again. The trampoline meets the highest safety standard and is subject to the strictest safety standards of European and world markets. Trampoline inSPORTline PROFI Mini Digital 140 cm meets standards: EN-13219, EN-913 and EN-71 of the German testroom TÜV NORD and ASTM International (concerning trapoline functionality and safety and safety of childrens gymnastic equipment). Perfect jumping properties are provided by a set of Super-High corrosion-resistant galvanized springs and resistant jumping area with high spring developed in the USA, which is resistant to UV radiation. The construction of the trampoline inSPORTline Mini Digital 140 cm is then made of steel galvanized tubes Heavy Duty with increased resistance. Newly is the trampoline equipped with computer, which can calculate and display variables such as a time, calories burned (indicative) and a number of jumps per minute.
If you are unsure of choosing the right size of trampoline, then use our guide.
Technical description:
mini trampoline of the inSPORTline brand
Hi-ten steel durable construction with a unique finish
trampoline can be assembled without using tools
the trampoline can not be used as a springboard
solid perimeter protective cushion of the trampoline
8 feet
soft rubber grip for hands
height-adjustable handle in 4 levels (80-100 cm)
sensor to record the number of jumps
trampoline diameter: 140 cm
trampoline height: approx. 30 cm
handle width: 70 cm
weight: 8.5 kg
load capacity: 110 kg
trampoline is designed for both home and commercial using

Recommended by Petr Kopriva, the inSPORTline Coach
Exercise will increase your fitness endurance. Regular training supports weight loss and strengthens the cardiovascular system.
Trampoline with handlebar inSPORTline PROFI Digital 140 cm - Documents to download
Trampoline with handlebar inSPORTline PROFI Digital 140 cm - Product parameters
Trampoline diameter
An important parameter to take into account when choosing a trampoline is its size. Generally speaking, the bigger the trampoline, the more fun you have. An entire family can use a bigger trampoline, as well as your children's friends. There are many diameters to choose from. From compact 90 cm to the 460 cm maximum.
It is also important to take into account the space needed. It is recommended to keep at least 1 m free space along the entire length of the trampoline. That means that if you have a trampoline with 457 cm in diameter, you need approximately 6.5 m of space. If you want to place your trampoline indoors, the maximum recommended diameter is 140 cm.
140 cm
Trampoline with handlebar inSPORTline PROFI Digital 140 cm - alternatives -
all in stock
Trampoline with a Handlebar inSPORTline PROFI 122 cm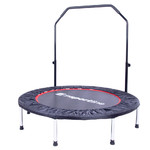 More info
Trampoline with handlebar inSPORTline PROFI Digital 140 cm is included in the following categories: